Estimated read time: 2-3 minutes
This archived news story is available only for your personal, non-commercial use. Information in the story may be outdated or superseded by additional information. Reading or replaying the story in its archived form does not constitute a republication of the story.
OGDEN -- Authorities believe they have broken up one of the largest drug operations in the state. Narcotics officers and federal agents raided three homes in Ogden Thursday night.
A resident of one of those homes said they hit the wrong place, but narcotics officers have been investigating this operation for months, and they're confident they raided the right homes.
Thursday afternoon, Aaron Esquibel said he was home taking a nap.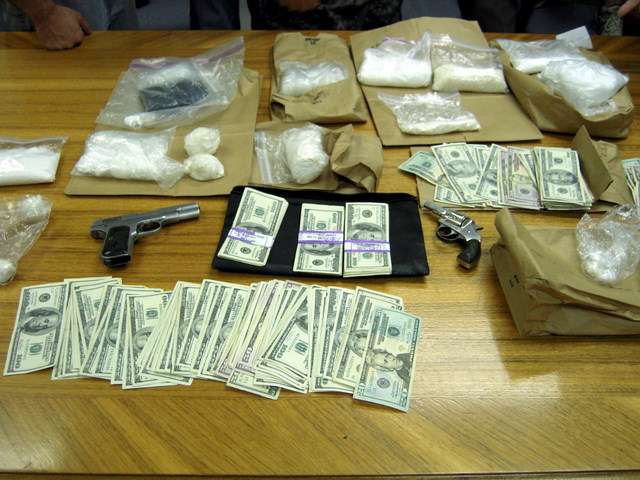 "I was asleep," Esquibel said. "My brother said he saw them running up, and they kicked the door. They just ran in, guns blazing like on movies."
Esquibel said narcotics officers and FBI agents stormed his house with a warrant and told him they were searching for drugs, but he said he had no idea what they were talking about.
"They didn't find anything. I don't see why they would raid my house in the first place," Esquibel said.
"I'd say these are one of the larger dealers," said Lt. Darin Parke, with the Weber-Morgan Narcotics Strike Force. "This organization was one of the larger ones in our area, and in the state probably."
Parke said Esquibel's home was one of three raided where officers collected quite a stash of drugs, cash and weapons: $60,000 worth of meth, $5,000 worth of cocaine, more than $18,000 in cash and two handguns.
Police took four people into custody. Parke said they are illegal immigrants who had been living in Utah and dealing narcotics for upwards of 10 years. But all of that, Esquibel said, is news to him.
"It's probably because we get a lot of traffic here. My family's got a lot of friends," he said.
Parke said some of those friends were the main players in the drug operation. Although officers don't believe Esquibel was involved nor had any knowledge of drug activity, police believe someone in his home does.
"This is a very good investigation," Parke said.
Esquibel said the two handguns involved in the raid belonged to his grandfather, who is deceased. Parke said one of the guns' serial numbers had been tampered with and the other may have been stolen.
The three people in custody face multiple drug and identity theft charges, as well as deportation.
E-mail: jstagg@ksl.com
×
Most recent Utah stories