Estimated read time: 2-3 minutes
This archived news story is available only for your personal, non-commercial use. Information in the story may be outdated or superseded by additional information. Reading or replaying the story in its archived form does not constitute a republication of the story.
Tonya Papanikolas reporting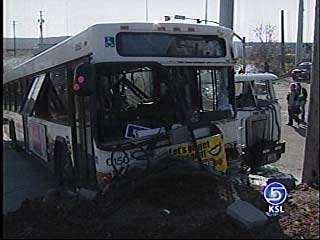 A UTA bus driver and a garbage truck driver are both in the hospital after their vehicles collided on 33rd South and 5th West.
One of them was flown to the hospital in critical condition.
The garbage truck was headed down 5th west, headed towards a transport facility. The bus was going through the intersection. It appears one of the vehicles may have gone through a red or yellow light. The crash occurred at approximately 9:15 a.m.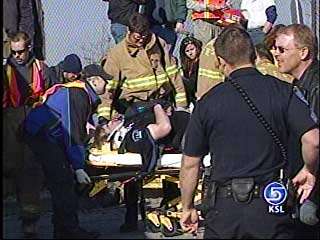 Both drivers had to be extracted. The bus driver had leg injuries, and was transported to LDS Hospital in serious to critical condition. The garbage truck driver was injured more seriously, suffering major head trauma. He was unconscious the entire time. He was transported by helicopter in extremely critical condition.
There were eight passengers on board the bus who suffered minor injuries.
James Pagan, Bus Passenger "The bus went flying everywhere, people were just trying to hold on. A couple guys bounced around, but I was braced for it. I heard the brakes screeching, so I was prepared. The impact was so severe that it hit the bus onto the curb, knocked a few brick out of the way. There was a girl that got thrown across the bus."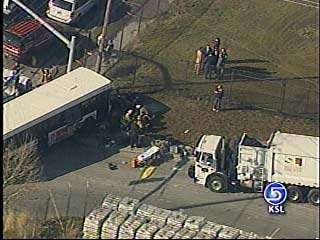 Chief Steve Foote, South Salt Lake Fire Dept.: "It could have been a lot worse, in that we could have had more injuries on the bus. But obviously some evasive measures were taken to protect those passengers, and it minimized injuries on the bus."
Witnesses say that people came off the street trying to help out, and some of the passengers helped try to keep the bus driver conscious. Half of the bus passengers went to the hospital as a precaution.
![](http://www.commuterlink.utah.gov/1_devices/aux101.jpeg)
Current image of accident scene from [Commuterlink](http://www.commuterlink.utah.gov)
×
Most recent Utah stories