Estimated read time: 3-4 minutes
This archived news story is available only for your personal, non-commercial use. Information in the story may be outdated or superseded by additional information. Reading or replaying the story in its archived form does not constitute a republication of the story.
DAYBREAK -- The Salt Lake Valley Health Department confirmed three cases of roundworm at Oquirrh Lake in the Daybreak development.
Daybreak officials have been proactive in shutting down the beaches while health officials look into the problem.
Dr. Dagmar Vitek, the health department's medical director, says roundworm, or Ascaris, is the most common infection for humans. It is usually found in tropical or subtropical areas with poor hygiene and sanitation.
Vitek says a person is infected by playing in the sand or swimming in water and swallowing the worm eggs.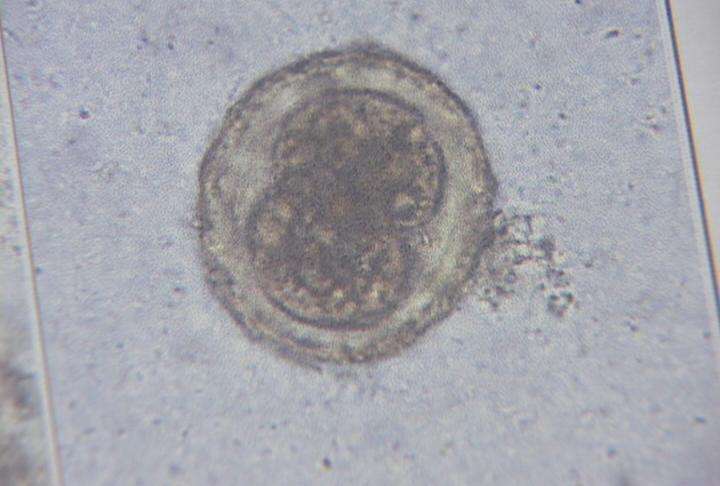 "The eggs travel into the small intestine. They become small worms that travel into the lungs, get into the throat and are swallowed again," said Vitek.
She says an adult roundworm can grow up to 12 inches inside the small intestine and lay eggs there.
"It's discovered when a person coughs up or passes out the worms," said Vitek.
Side effects can also include abdominal pain, cramps or constipation. Some people, however, experience no side effects at all.
Vitek says medicine can easily clear out the worms, so anyone who thinks they may be infected by worms should see their primary care physician or provider. The doctor will take a stool sample to test for the worms.
Roundworms cannot be spread person to person.
Residents concerned
Residents living around Oquirrh Lake say it's disconcerting to hear about the roundworm, especially after a summer of swimming there.
Charles Lloyd says his kids went swimming at the beach on Labor Day. He says the place was packed with kids.
"It's pretty scary. I'm glad my kids didn't swim anymore," Lloyd said. "I didn't get in myself, but three of my kids did. They were just wading through it. I don't know if they got any in their mouth, so that makes me feel a little bit better."
Resident Catherine Frazier says she's been on the beach and in the water.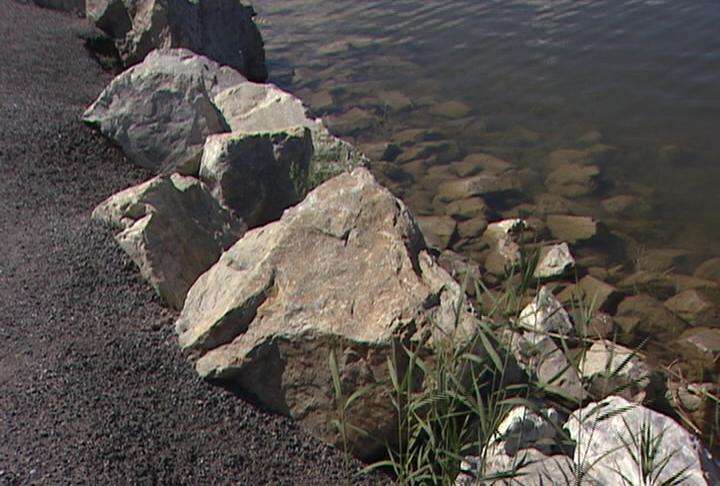 "My kids have been in it a bunch. It makes me a little worried, but, like I said, I'm not surprised," she said.
Frazier has a theory to what might be the cause of the possible problem.
"The bathrooms are kind of far away, you know; not as readily accessible to some kids. My little kids are little, as far as they can't make it. Hopefully, that will wake parents up and we can all be a little more responsible about making sure our kids go to the bathroom in the right place," she said.
Kennecott Land spokeswoman Jana Kettering says they shut down the lake to swimming as a precaution while tests are being done to see if it can be confirmed the roundworm came from Oquirrh Lake. She says they are proactively notifying residents about what's happening and they want to take all precautions.
"The health department did advise us that no body of water in the state of Utah is tested for this type of organism, and so you take the risk whether you come to Oquirrh Lake, Lake Powell or Jordanelle," Kettering said.
As for the availability of restrooms, Kettering says there are portable bathrooms placed around the lake and there are plans to build permanent structures next year.
The Salt Lake Valley Health Department says there are precautions people can take so they don't contract the parasite.
"Wash your hands, practice good hygiene; anything to prevent the ingestion of the eggs by either, you know, putting your hands in your mouth, or having it on food, or something like that while you're eating," said Kevin Okleberry, environmental health scientist for the Salt Lake Valley Health Department.
The lake was filled with water last year and work continues around it. A triathlon is scheduled to take place in Daybreak on Saturday. Organizers of the event are looking at alternative options to the swimming portion of the race.
------
Story compiled with contributions from Mary Richards, Randall Jeppesen and Sam Penrod.
×
Related links
Most recent Utah stories