Estimated read time: 1-2 minutes
This archived news story is available only for your personal, non-commercial use. Information in the story may be outdated or superseded by additional information. Reading or replaying the story in its archived form does not constitute a republication of the story.
Amanda Butterfield ReportingThe Salt Lake native who is hoping to be Donald Trump's newest employee lasted another week on The Apprentice. Her name is Audrey Evans, and since the third season of the hit show started airing last month, Audrey's life has changed.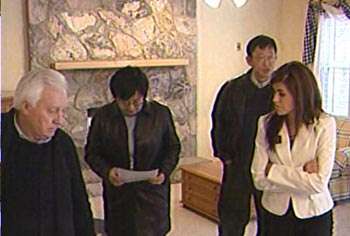 It's been work as usual for Audrey Evans, showing clients homes for sale in the valley, but people's response to Audrey has been anything but usual.
Gary Huntsman, Huntsman & Associates: "It's been absolutely riot."
According to Audrey's boss here in Salt Lake, since The Apprentice began, Audrey has been getting calls from modeling agencies, acting agencies, and job offers from around the country. She's even got some admirers.
Gary M Huntsman: "Fan mail, email, guys saying they're in love with her, if she wasn't married they would date her; it's really been cute."
Her name is all over the web and people are starting to recognize her in person too.
Gary Huntsman: "You go to the grocery store gas station car wash, and everyone knows Huntsman Associates and they know Audrey today."
Throughout the weeks Audrey has been getting plenty of air time.
Audrey Evans: "This is one of the stupidest commercials."
Not shy about speaking her mind. And she's even had a scare in the boardroom..
Audrey Evans: "Mr. Trump, she doesn't like me; it's personal not business."
Audrey escaped being fired and is still in the running to work for The Donald. And with all this new-found fame, Gary says it hasn't changed Audrey a bit.
Gary Huntsman: "It hasn't gone completely to her head. So far she's maintained herself really well and enjoying the ride right now."
×
Most recent Utah stories