Estimated read time: 1-2 minutes
This archived news story is available only for your personal, non-commercial use. Information in the story may be outdated or superseded by additional information. Reading or replaying the story in its archived form does not constitute a republication of the story.
Richard Piatt ReportingUtah lawmakers area advancing a bill that would allow deer and sheep hunting on Antelope Island. That's in spite of several studies that show the public doesn't want hunting on the island.
Two permits to hunt deer on the island and two for sheep would go to the highest bidder -- dedicated hunters who are after trophy animals.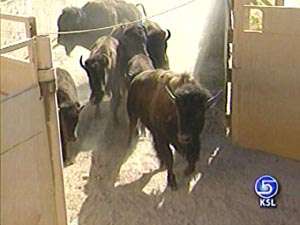 Right now there are 239 deer and 130 sheep on Antelope Island. The bill would also expand the number of bison hunting permits. Promoters of the bill say it would help control the older animals in the park and raise about $200,000 a year. But there are those who don't like the idea.
Spence Kinard, Friends of Antelope Island: "This isn't the place to raise money. It shouldn't be about money. It should be about preserving a treasure, which Antelope Island is."
Bill Rigby, Supports Hunting Bill: "I can't see why we would hesitate to make some profit off of Antelope Island with this kind of hunting, which would amount to one week a year."
Also today was a rally to oppose Senate Bill 34, the so-called 'Any Willing Provider Bill'. If it passes, those on managed care could pick any doctor they want, not just those connected to a health plan. Opponents say the bill would skyrocket costs, preventing small business owners from offering insurance benefits at all.
We're closing in on the last week and a half of the session. Still on the table are issues including splitting up IHC, education funding, and settling the budget once and for all.
×
Most recent Utah stories