Estimated read time: 1-2 minutes
This archived news story is available only for your personal, non-commercial use. Information in the story may be outdated or superseded by additional information. Reading or replaying the story in its archived form does not constitute a republication of the story.
Amanda Butterfield reporting A man is in critical condition this morning after an overnight shooting at a nightclub in Salt Lake County.
The victim was shot at least two times. He was taken to a trauma center by medical helicopter. At last check, he was listed in critical condition.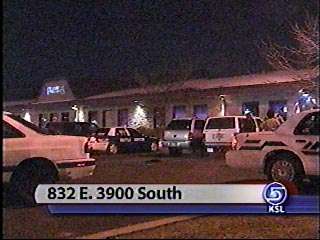 Deputies believe he may have been shot at least once in the stomach. It all started at 2:00 this morning at 832 E. 3900 South.
Investigators believe it was all the result of a heated argument. The 30-year-old man was rushed to St. Mark's Hospital by other people inside the club. Then, he was flown to a trauma center in Salt Lake.
Deputies took several witnesses into custody for questioning and say they've received conflicting stories about the shooting.
Lt. Jon Fassett/ Salt Lake County Sheriff's Dept.: "We're getting bits and pieces from individual witnesses and it will take some time to put all that information together to make a composite story."
Deputies believe the shooter opened fire in the club parking lot. Investigators found a half-used gun magazine from a semi-automatic 22 caliber pistol.
They also found a bullet hole in the bumper of a pick -up truck.
Sheriff's deputies aren't sure if there's more than one suspect. But they're still looking for people involved in the shooting.
×
Most recent Utah stories