Estimated read time: 2-3 minutes
This archived news story is available only for your personal, non-commercial use. Information in the story may be outdated or superseded by additional information. Reading or replaying the story in its archived form does not constitute a republication of the story.
John Daley ReportingNew legislation in the works regarding driver's licenses for non-citizens draws a big crowd in opposition up on Capitol Hill.
Utah's Senate today passed a controversial measure to create a new driver's license for non-citizens. Backers of the bill say it'll improve security and help authorities looking to enforce immigration laws. But opponents packed the halls of the legislature in protest.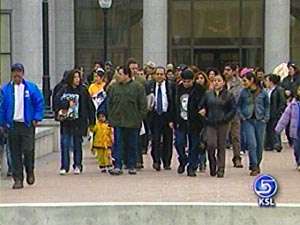 In American society this is our number one form of everyday identification. Everyone, citizens and non-citizens alike, use it at the bank, at the airport, or if we get stopped by police. But lawmakers are debating creating a new license and that has immigrants, in particular, very worried.
The lobby and the halls were packed with people, many of them immigrants, many of them experiencing their first encounter with the political process. They filled out sheet after sheet of paper, slips delivered inside asking to speak to a lawmaker.
Inside Senators debated a bill which would have a considerable impact on those outside. Senate Bill 227 would create a new driver's license for non-citizens, who instead could get a card which reads "for driving privileges only--not valid for identification."
Supporters of the bill say it'll improve national security and help enforce immigration laws.
Sen. Curtis Bramble, (R) Provo: "It's not just to provide a driving privilege but provide some checks and balances with the rights of citizenship. It's important that it be distinguishable from a Utah driver's license."
Those outside say they came to the US for a better life, but now fear the new cards could be used to profile Hispanics, or even as a tool to deport them.
Tony Yapias, Protest Organizer: "What's to stop them from if they have a special driving card, then the next thing to do is identify them as undocumented or illegal and they just call immigration and say I have an illegal here for you."
Estephanie Lopez, Salt Lake City Resident: "The people can get deported back to their countries and the people here to get a better life."
Claudia is from Mexico City, was adopted by an American family and has lived in the US 20 years.
Claudia Aragon, Salt Lake City Resident: "I just want them to know that by them doing this with this new bill they are going to be profiling Hispanic people, including myself. If I'm driving down the street, I fear I'm going to get pulled over because I'm Hispanic."
That bill did pass the Senate today on a 18 to 5 vote. It now moves on to the House, and those who spoke out today say they'll be back to speak out again.
×
Most recent Utah stories