Estimated read time: 1-2 minutes
This archived news story is available only for your personal, non-commercial use. Information in the story may be outdated or superseded by additional information. Reading or replaying the story in its archived form does not constitute a republication of the story.
Sammy Linebaugh reportingThat mudslide in South Weber has shut down a residential section of South Weber Drive until the end of this week. That's because the mudslide is still unstable.
Relentless rain and saturated soil-- a recipe for trouble at the Weber-Davis County border as a mudslide shuts down a road in South Weber.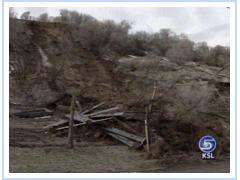 No one was hurt, but a link to a family's history is gone, destroyed by Mother Nature. The landslide gobbles down a South Weber barn in a matter of seconds.
The mudslide also forced a main road through South Weber to close.
While the slide did cause minor damage, officials believe the soggy hillside could still be a safety concern. At least one family was forced to leave home when the mud hit on Sunday.
South Weber Drive, the main road through the northern Utah community is still closed. U-DOT engineers took a look at the hillside today. They want to make sure it's safe before the road reopens.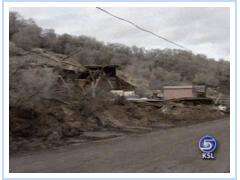 South Weber emergency crews say heavy rains loosened the soil at 6955 S. 475 East just enough to send it rolling down the mountain.
The Birt Family was eating dinner around 6:00 when they saw the slide heading right towards them.
Nolan Birt: "I looked out the window just in time to see the mudslide hit the barn. The barn just kind of disintegrated. Parts of it flew everywhere."
The barn was leveled rather quickly. Nolan Birt says it was built by his family in 1889. He used it as shelter for horses and bails of hay. Now it's a complete loss.
The mudslide also uprooted some telephone polls, but we're told it didn't wipe out phone service.
×
Most recent Utah stories