Estimated read time: 1-2 minutes
This archived news story is available only for your personal, non-commercial use. Information in the story may be outdated or superseded by additional information. Reading or replaying the story in its archived form does not constitute a republication of the story.
Ed Yeates ReportingPeople with Downs Syndrome seldom if ever live to a ripe old age. But some now are getting into their 60's, a few reaching a rare 68 years. The Guinness Book of World Records is now considering a Utah woman who could be among those on the higher end of the survival scale.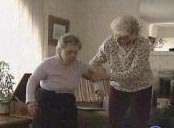 Like most folks with Downs Syndrome, Nancy Siddoway's high risk for heart failure has finally caught up with her. But she's survived longer than any of her friends with Down Syndrome.
She's been a part of her family for a long, long time. Nancy's sister Edna Allison knows now it's only a matter of time.
Edna Allison, Nancy's Sister: "It's going to be very hard on all of us. But we know she'll be happy being with Mommy and Daddy."
Nancy loves music -- her singing bear, a constant companion. She loves to sing and can remember the verses to many songs. Getting notoriety for survival is not important to her, but who she represents.
People with Downs Syndrome are loving, compassionate, always eager to meet new people. That's been the hallmark of Nancy's life. Despite her heart condition, she's kept her great sense of humor, even spoofing folks she's having a spell, when she's really not.
Edna Allison: "And we've learned. Nancy has been a great teacher to all of us. We've learned the things in life from her that are important."
Nancy may not make it to her 68th birthday. By their very nature, people with Downs Syndrome savor every minute, every hour of life. As it will be so in her house right up to end.
×
Most recent Utah stories