Estimated read time: Less than a minute
This archived news story is available only for your personal, non-commercial use. Information in the story may be outdated or superseded by additional information. Reading or replaying the story in its archived form does not constitute a republication of the story.
SALT LAKE CITY (AP) -- A Salt Lake road is shut down this afternoon after a police chase ends in a crash.
South Salt Lake Captain Chris Snyder says it all began when an officer attempted to pull over a vehicle for speeding on 3600 S. West Temple.
The driver instead fled from police who then decided to end the pursuit.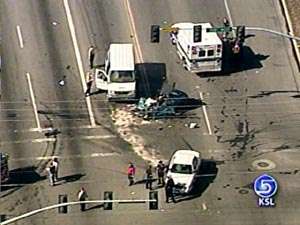 The officer later found the suspect involved in a major accident at the intersection of 3900 South and 700 West.
Witnesses said the suspect had run a red light, hitting a truck and a Salt Lake County transport van, carrying eight inmates.
Synder said the suspect and the female driver of the truck were both seriously injured and life-flighted to the hospital.
Synder said the suspect does have a felony warrant for possession of stolen property.
(Copyright 2005 by The Associated Press. All Rights Reserved.)
×
Most recent Utah stories