Estimated read time: 2-3 minutes
This archived news story is available only for your personal, non-commercial use. Information in the story may be outdated or superseded by additional information. Reading or replaying the story in its archived form does not constitute a republication of the story.
Tonya Papanikolas ReportingThe game of poker seems to be increasing in popularity. Poker clubs are springing up across the valley, and it's a popular pastime with college kids. But students at the University of Utah won't be playing a tournament on campus this week like one group had planned.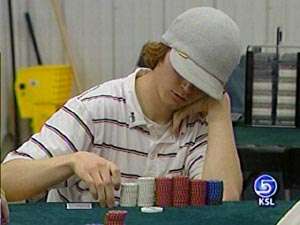 The Big SLC Poker Club says they've been planning the event for months. But last week the University called them to say the tournament was not going to happen. The University says it wasn't in the best interest of their students.
The Big SLC Poker Club was planning on hosting a student tournament at the University of Utah this week. But the tournament never happened.
Ryan Nadeau, Big SLC Poker Club: "The biggest frustration at this point to me personally is the time involved that went into this, and the excuses the university is giving as to why they're canceling this event."
The club's founders say they started talking with the University in September and received approval last month. But the university told us no one ever gave the group a final answer.
Coralie Alder, University of Utah Spokeswoman: "We knew there were negotiations and discussions that had been going on, but we did not know that in their minds, they thought this was a done deal."
The poker club says they spent about $4,000 advertising the event, not to mention obtaining sponsors and prizes, and finding employees to work the tournament. Yesterday, they filed a complaint against the university in Third District Court, alleging a "breach of contract". But that's something the "U" says never existed.
Coralie Alder: "There was never a contract signed; there was never given final approval to have this event on campus."
That complaint outlined possible future action if the club decides to sue. They asked for $100,000 to cover money lost in planning the tournament, and $250,000 for lost business.
Ryan Nadeau: "The participation that we were expecting was gonna be 3,000 to5,000 students. And that was people that we expected to play poker."
While the players would not have competed for cash, the group says they could have attracted new members to their club. But the university says it was inappropriate.
Coralie Alder: "It ultimately came down to the fact that a poker, gambling tournament was not viewed to be in the best interest of the university."
The poker club says they fight a negative image of their sport all the time, but emphasize what they do is "legal." They plan to hold the tournament at their headquarters this weekend. They are also considering a lawsuit against the university.
×
Most recent Utah stories