Estimated read time: 3-4 minutes
This archived news story is available only for your personal, non-commercial use. Information in the story may be outdated or superseded by additional information. Reading or replaying the story in its archived form does not constitute a republication of the story.
UTAH COUNTY -- A private company wants to pay for and build a toll bridge spanning Utah Lake, but it's already facing opposition from environmentalists.
Utah Crossing Inc. wants this project completed in about three years. The company says it's ready for the fierce opposition, which vows to stop this bridge from ever going up.
$600 million bridge from Orem to Saratoga
The company is proposing a $600 million bridge that would go from Orem to Saratoga Springs. To get across, all you'd have to pay is a couple of bucks to go 6 miles, instead of 20 miles around the lake.
Rep. Ken Sumsion, R-American Fork, said, "With $2 to $3 toll, they'd actually save money, let alone all the time they'd save going around."
The group's website, utahcrossing.com/5.html, says the proposed bridge will have steel pylons over Utah Lake every 100 feet to create an elevated four-lane vehicle traffic highway, including an emergency lane and pedestrian walkway.
The bridge would begin at Vineyard Lake Road, which is near the 800 North exit of Interstate 15 in Orem. It would extend at a southwest direction to Saratoga Springs just north of Pelican Point.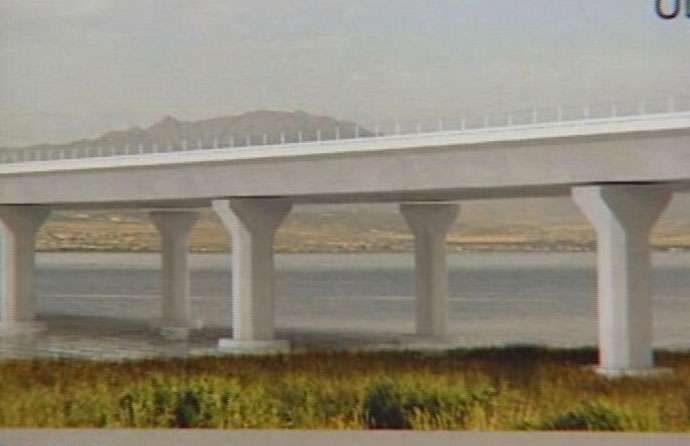 The bridge would stand about 35 feet above the lake, with a humped span rising 50 feet for taller boats.

Company says it's needed for the growing population

Estimates put the west-side population growing up to one and a half million people in 50 years. Utah Crossing, along with some state legislators say now is the time to do this.

Sumsion said, "So what this does is begin to put in place transportation without tearing down houses and doing it just a smidge before those roads are needed."

**What is... Utah Crossing?**

A group aimed at providing access from the West side of Utah County to the East side. It believes "the private sector is much more capable of completing this task in a timely and fiscally responsible manner than the government."

**Environmental groups don't like the plan**

The company says the bridge is environmentally friendly, but other groups disagree.

Sierra Club Regional Rep. Marc Heileson said, "It would increase water quality problems, destroy fish habitats and bird habitats, and cut the lake in two."

The Sierra Club, along with other fish and gaming groups, strongly oppose the plan. They say the bridge is just a ploy to bring more housing, businesses and unnecessary congestion to southwestern Utah County.

"It's truly a land development scheme disguised as a transportation project," Heileson said. "It's Utah's version of a bridge to nowhere."

Leon Haward, president of Utah Crossing, told KSL Newsradio Thursday morning he didn't want to get into all the details just yet, but many details will be announced at a Utah Lake Commission meeting next week.

The next step is getting approval from State Lands and the Utah Lake Commission.

------

Story compiled with contributions from Nicole Gonzales and Randall Jeppesen.

×
Related links
Most recent Utah stories