Estimated read time: 5-6 minutes
This archived news story is available only for your personal, non-commercial use. Information in the story may be outdated or superseded by additional information. Reading or replaying the story in its archived form does not constitute a republication of the story.
John Hollenhorst and John Daley ReportingSteve Foote, South Salt Lake City Fire Chief: "You know, why would you put people at risk like that? Why did we have to close the interstate freeways down just because somebody did something they shouldn't have done?"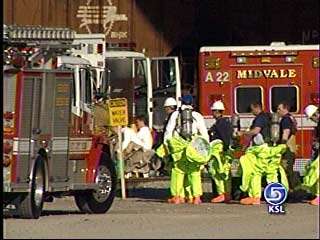 There's rising anger and finger pointing between companies today in the aftermath of yesterday's toxic chemical spill. A leaking railroad car paralyzed the central Salt Lake Valley and sent thousands fleeing from their homes. Today the rail car's owner accused another company of breaking the rules and causing the accident.
The emergency is over and now a big cleanup is underway in the rail yard. Thousands of people were allowed back to their homes around 10:00 last night. Today the blame game started in earnest.
Emergency crews worked late into the night. On a closed circuit monitor, vapors were visible, rising from the tank-car as a toxic brew of chemicals was drained into portable storage tanks. As accusations swirled about improper paperwork, the Union Pacific railroad said it was too soon to say what went wrong.
Mark Davis, Union Pacific Railroad: "I've been with the company 25 years. This is the first time I've ever run into a situation like this."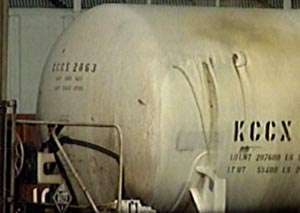 By daylight the damaged rail car looks moth-eaten. It was actually eaten from inside out, nearly disintegrated by noxious chemicals. While it was happening, emergency crews called for evacuations without being sure what chemicals were inside. They say they were surprised to find the documentation was inaccurate.
Steve Foote, South Salt Lake City Fire Chief: "Surprised and angered. I was dismayed that the manifest did not represent exactly what was in there."
The tanker car was filled with toxic acids by Philip Services Corp, a Houston-based hazardous waste company with a small branch facility in Woods Cross.
Philip issued a press release saying, "The railcar was properly loaded and the contents were listed on its manifest."
'Wrong!' says Kennecott Copper. Kennecott owns hundreds of similar cars. Three of them were subleased to the Philip Company. Kennecott says the cars are designed for sulfuric acid only, and the chemicals put in by Philip apparently ate right through the tank's protective lining.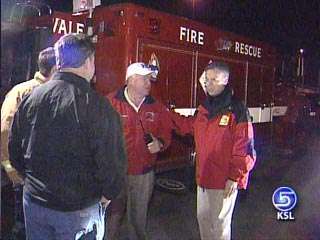 Louis Cononelos, Kennecott Utah Copper: "They have endangered the public health of the citizens of Salt Lake City and wherever those rail cars are shipped. And they should pay dire consequences for their actions."
The fire chief echoes that and says inaccurate information on Philip's manifest put emergency responders at risk.
Steve Foote: "And it irritates me to death that people don't follow the rules like they should in an instance like this, where we know going in exactly like this."
Again, Philip Services Corp denies the accusations and says the company rigorously complies with the laws and regulations. Federal railroad officials confirm they've launched an investigation, and the companies involved are no doubt considering their legal options.
So just who is keeping track of these hazardous rail cars and how are local emergency crews and first responders to know what these toxic trains are carrying? The short answer is there is no state agency and no federal agency which tracks all of the tank cars on our railway system, all of that is monitored by the rail roads and shippers. And some government watchdogs say that's a recipe for disaster.
In the course of any given day there are hundreds of toxic tankers which roll through Utah, easily millions of tons each year.
But just who is keeping track of the toxic trains like the one which was literally melting away yesterday in South Salt Lake? First we went to the state's transportation department and were told they don't handle rail, just roads.
Rick Clasby, UDOT Director of Motor Carrier Division: "The Department of Transportation primarily focuses on commercial vehicles and highway transport."
Hazardous waste in Utah is handled by the Department of Environmental Quality, but we found they only handle disposal and spills.
Dennis Downs, Director of Solid and Hazardous Waste: "Once that material is on a train for example, that becomes federal jurisdiction and we no longer have control over that."
The railroads and shippers keep their own records about what's in tanker cars, using placards to help identify what's inside. The Federal Railroad Administration oversees the industry and from Washington today a spokesman tells us, "...generally speaking safety and security is better than it's ever been..."
But one longtime hazardous waste watchdog calls the system a bureaucratic maze, and with no real accountability.
Chip Ward, Activist/Author: "I would say that our system of shipping hazardous and toxic waste around the country amounts to railroad roulette."
Watchdogs point to a recent chlorine gas accident in South Carolina which killed eight and a huge spill in Baltimore four years ago as disaster scenarios, and warn this story is not going away with Utah on the transportation route for nuclear waste.
Jason Groenewold , HEAL Utah: "We just saw a sneak preview for a nuclear horror film that we don't want to see. And I think what this exemplifies is that we're constantly being told 'don't worry' and I think Utahns need to worry."
The Federal Railroad Administration is investigating. Meantime, citing national security and terrorism fears, federal officials are weighing a proposal to remove those placards from all tank cars. But fire fighters and rail workers are resisting that move; they say what happened yesterday is the perfect example of why that's a bad idea.
×
Most recent Utah stories