Estimated read time: 1-2 minutes
This archived news story is available only for your personal, non-commercial use. Information in the story may be outdated or superseded by additional information. Reading or replaying the story in its archived form does not constitute a republication of the story.
Amanda Butterfield reportingDozens of Utahns gathered this morning to help Free Tibet. It was in honor of the 46th anniversary of the Tibetan Uprising, where thousands of Tibetans demonstrated against the Chinese invasion and were killed.
The demonstrations occurred around the world. Wherever there are Tibetan Communities, protesters are raising awareness to Free Tibet.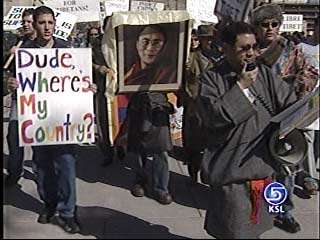 In Utah there is a small, but strong, Tibetan community of about 150. Most of them gathered this morning to commemorate the day 46 years ago, where so many like them sacrificed their lives.
After a moment of silence honoring those who've died, Tibetan songs were sung, including the Tibetan national anthem. Some of the first Tibetans to come to Utah spoke about freeing their country.
Among the crowd, students and professors from local colleges.
Jennifer Morrison/Student Westminster College: "I'm here because 40 people being killed in Tibet by the Chinese is outrageous."
T.J. Chagzoetseng/Utah Tibetan Association:" Tibetans should have autonomy to preserve our own culture and religion, and determine our own countries affairs."
After songs and speakers, the group marched down to the Salt Lake City County Building.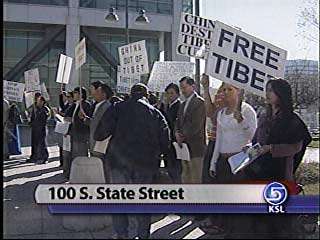 On this anniversary the Dalai Lama always issues a statement to Tibetans -- words of encouragement, comfort.
The Tibetans and the Dalai Lama do not want complete independence from China. They are committed to the to the 'Middle Way Approach' where they would remain within China, but have freedom over their religion and culture and way of life.
×
Most recent Utah stories