Estimated read time: 2-3 minutes
This archived news story is available only for your personal, non-commercial use. Information in the story may be outdated or superseded by additional information. Reading or replaying the story in its archived form does not constitute a republication of the story.
(KSL News) -- It has been a sad day at Kanab Elementary School, as students try to deal with the death of one of their classmates.
Ten-year-old Josh Hutchings died over the weekend in a mudslide.
He was fifth grader in school of only 400 students, so everyone knew everyone.
Today, a handful of grief counselors are at the school talking to teachers and students in the halls and in the classrooms, helping them cope with the death.
Ten-year-old Josh Hutchings, his sister, and a friend were playing in the Kanab Creek Saturday when the dirt walls around them started to crumble. A landslide 50 yards wide and 20 feet high buried them.
Alan Alldredge, Kanab Fire Chief: "All three of them were actually trapped. The two girls were able to dig themselves out and go for help."
But Hutchings was completely buried. The news spread fast and people from all over town showed up to help. At least 200 volunteers grabbed shovels or used their hands to dig.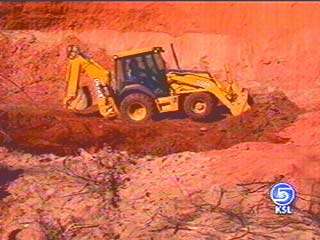 Jordan Jones: "He loved playing in the creek. It was just his thing to do."
Boyd Cory, Volunteer: "My boys play with this little boy, and you help."
Tom Avant, Volunteer: "You had kids down here in shirts and ties digging. Everyone was just down here and the whole town shut down to come over and help."
Alan Alldredge: "There was a definite sense of panic, a frantic. To see people, they were using their bare hands. They were using anything they could find, just shoveling the dirt out, trying to find this little boy, because everybody knows him."
Bloodhounds from Arizona were hauled in to sniff out Josh's scent.
Marsha Bratsher, Dog Trainer: "They were able to detect scent going into the area."
After 45 minutes backhoes started moving more ground. Crews worked overnight, but it was daylight before they finally found Josh's body buried seven feet under the dirt. His family and friends couldn't believe the outcome.
Jordan Jones, Friend: "We've always played in the creek. And you don't expect this every day to just happen to you."
Jordan Jones says he will miss his friend and remembers Josh as an adventurer.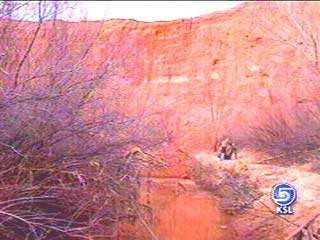 Jordan Jones, Friend: "He loved to go four-wheeling. He was just a fearless kid. He loved doing things, he'd do jumps, he loved bikes. He was a great kid."
Officials say all the rain they've had this season may have loosened the creek walls. Police say they may need to think about putting some kind of warning signs in the area.
This morning, before students arrived to school, the principal briefed staff on what happened. During morning announcements, mention was made of Josh's death. Teachers handled any questions from their students.
Funeral arrangements have been made for this Friday afternoon at the Kanab LDS Stake Center -- located right behind the elementary school.
×
Most recent Utah stories