Estimated read time: 2-3 minutes
This archived news story is available only for your personal, non-commercial use. Information in the story may be outdated or superseded by additional information. Reading or replaying the story in its archived form does not constitute a republication of the story.
Alex Cabrero Reporting"I don't feel comfortable letting her be transported by a driver who would do that."
A mother is upset because she says the bus driver dropped off her daughter at the wrong stop. But the Provo School District says it really didn't happen that way and they didn't know it was the wrong stop. Still, the mother wants something to be done.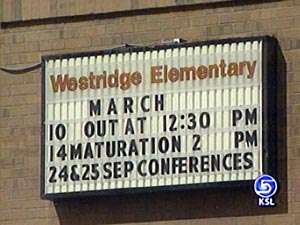 Last week there was only a half-day of school at Westridge Elementary. Six-year old Kelsey Keith got on her normal bus, thinking it would take her to the school where she would meet her daycare teachers. Instead, the bus went to her house and no one was home.
There are probably a hundred notes on Gregory Hudnall's desk.
Gregory Hudnall: "From little stickies to the back of a card."
But there's one note that isn't here, one that was never written that's creating such a problem.
Gregory Hudnall: "It appears there was a miscommunication."
You see, Hudnall is Provo School district student services director.
Kristi Keith: "It hasn't been a problem until now.
And Katie Keith isn't too happy with how he's dealing with her daughter's bus driver.
Kristi Keith: "I would like to see a policy change and a little reprimand."
Her six-year old daughter Kelsey goes to Westridge Elementary in Provo. Last Thursday the school had a half day of classes, so Kelsey got on her bus thinking it would bring her to Grandview elementary like it normally does, so she could meet her daycare staff. However, because of the half-day, the bus instead took her home.
Kristi Keith: "She asked to be taken to daycare and the driver said, no, it was an early day and she needed to get off the bus."
Keith says her daughter started crying and the bus driver made her get off anyway, knowing nobody was home.
Hudnall says no way.
Greg Hudnall: "Our bus driver's informed us that did not happen."
Hudnall says they didn't have a note from Keith, so they couldn't take her somewhere else. In fact, he says, young Kelsey wasn't crying when she got off so the driver didn't know anything was wrong.
Kristi Keith: "Certainly this is not a mistake when a child is crying and screaming this isn't their stop."
Greg Hudnall: "Our drivers are very good and they care about kids on the bus."
Provo schools' policy is to take a student back to where they were picked up in the morning unless they have a note. In this case, though, Keith says her daughter doesn't take the bus in the morning and won't at all until something is done. Hudnall wants to meet with her to clear this all up.
×
Most recent Utah stories