Estimated read time: 1-2 minutes
This archived news story is available only for your personal, non-commercial use. Information in the story may be outdated or superseded by additional information. Reading or replaying the story in its archived form does not constitute a republication of the story.
Ed Yeates ReportingWith the coming of a new world class Brain Institute at the University of Utah, student researchers have been going out to the schools this week to let kids have some rather unusual experiences.
It's not a model, but a real human brain, and kids at Bonneville Elementary School today had mixed reactions seeing and feeling this most remarkable and mysterious master of the human body.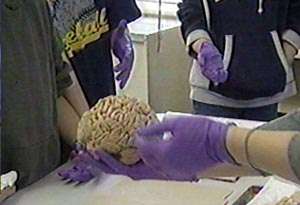 "It was really, really, really gross."
"It's really nasty - that's the first thought. But I think it's really cool to be able to see this brain and see the different parts of it."
"Like seeing and touching 'em because then you can understand what's up here."
"I thought it would be cooler, well not cooler, but not as gross, but yuck."
"It was cool but also really weird and gross."
"I think it's cool to see what's inside your head and just how it works."
Cool, weird, gross, nasty - that's the consensus. The brain was certainly the highlight, but there was more. The kids also made models of nerve circuitry and all their parts, then moved a piece aside to show what happens in paralysis. They also felt objects inside a mystery box to test the communication between the brain and their senses.
The most sobering demonstration perhaps was how well nature protects the brain inside the skull, but how much we threaten it sometimes outside.
Incidentally, this was part of an international event. Demonstrations like this finished up tonight all over the world as part of Brain Awareness Week.
×
Most recent Utah stories