Estimated read time: 2-3 minutes
This archived news story is available only for your personal, non-commercial use. Information in the story may be outdated or superseded by additional information. Reading or replaying the story in its archived form does not constitute a republication of the story.
Shelley Osterloh ReportingIt's still March, but with Easter coming up this weekend a lot of folks are looking for a spring time getaway. Shelley Osterloh has been checking into what's going on and how much you may have to pay to get there.
This is a great time of year in Utah. There's still plenty of snow in the mountains for snowmobiling or skiing, even some fresh snow and it's warm enough for golf or a little warm Southern Utah hiking or biking.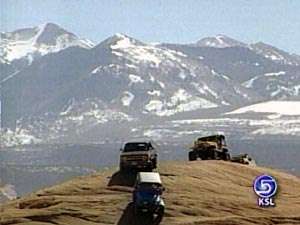 But if you get there by car, it'll cost a little more. The average price of gas in Utah us up to $1.99 now; that's within five cents of its all time high just as we head into the high driving demand months of summer. One year ago at this time it was $1.80.
Ogden and Provo have the cheapest gas, averaging about $1.95. The highest priced gas is in Moab at $2.08, just in time for one of Moab's biggest gas-powered attractions, the week long Easter Jeep Safari that attracts some 15 to 20-thousand people.
And for those that enjoy the smaller Off Highway Vehicles, some 35,000 of them congregate this weekend at the Little Sahara Desert. It's 28 miles west of Nephi and is known as "Utah's Largest Sandbox".
And every year many people flock to the San Rafael Swell area of Southern Utah for hiking and camping -- they call it Eastering at the Swell.
If you are anxious to get the boat out, there are quite a few state lakes and reservoirs open and water levels are up at many of them, including popular nearby reservoirs like Deer Creek and Jordanelle.
If staying closer to home sounds better, there are Easter Egg hunts in many communities this Saturday and other special activities at the Hogle Zoo and Thanksgiving Point. There's an Easter Bonnet Parade at the Gateway and an egg hunt for skiers and snowboarders on the mountain at Sundance, plus an Easter sunrise Service Sunday morning at Hidden Peak, you take the Snowbird Tram to the top.
Wherever you go, be prepared for quick changes in the weather, after all, it is still March. And by all means be careful and safe. Easter Weekend is also a busy time at Hospital ERs and that's one weekend hot spot you'll want to avoid.
×
Most recent Utah stories