Estimated read time: 2-3 minutes
This archived news story is available only for your personal, non-commercial use. Information in the story may be outdated or superseded by additional information. Reading or replaying the story in its archived form does not constitute a republication of the story.
Richard Piatt ReportingThe Schiavo family's situation changed due to extraordinary political action in Washington. Late last night, Congress passed and the President signed a bill that gives Terri Schiavo's parents a chance to keep her alive. Richard Piatt explains more on how the Utah delegation voted on the issue.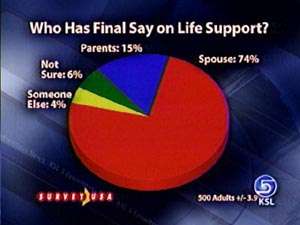 Utah's delegation is unanimous supporting the Schiavo bill, although not all of them were available to vote on it, but among the public reaction is mixed.
There are troubling questions at every turn in the Terri Schiavo case. To some that includes the government's involvement--Congress intervening in a rare weekend session. Today, Congressman Jim Matheson was the only member of the delegation that was in Utah.
Rep. Jim Matheson/(D) Utah: "Everybody in congress is sensitive. First of all this is a very tough set of issues. Secondly, what's the appropriate role of congress? And that's why this legislation is very narrow, and applies just to this particular case."
But in general the majority of the 500 Utahns polled by Survey USA last week could face a similar situation. Most say they do not have a living will, a document that states what medical steps they'd want if they were unable to speak for themselves. That means it would have to be someone else making that decision. In the case of a married person, most in our survey---74 percent--think the spouse should have the final say.
But in Schiavo's case her parents are the ones who are pushing to reverse the decision to let her die. Her husband continues to insist his wife would want everyone to let her die.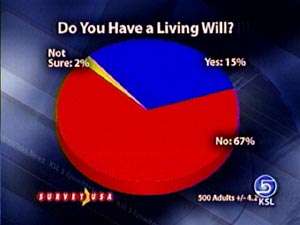 Michael Schiavo, Terri's Husband: "This is Terri's wish. This is what she wanted."
The case is getting more attention than ever and more people are applying Schiavo's very personal situation to their own life.
Art Hosmer: "Being a Christian I'm really torn. I think life is precious, I'm against abortion. But on the other hand, when quality of life is down to zero, I think you need to deal with it."
Beverly Hosmer: "I just really believe if her parents want to take care of her, let them. What's the big deal?"
The bottom line is, even with the extraordinary political fight over the weekend and a rising tide of emotion nationwide, tonight Terri Schiavo's fate is still uncertain.
×
Most recent Utah stories