Estimated read time: 1-2 minutes
This archived news story is available only for your personal, non-commercial use. Information in the story may be outdated or superseded by additional information. Reading or replaying the story in its archived form does not constitute a republication of the story.
Sammy Linebaugh reportingA man is in critical condition this morning after a car plows into him in Magna. Authorities say a car hit him on a very wet street while he was walking his dog.
Authorities aren't releasing the victim's name, but we do know he is from Magna and in his 40's.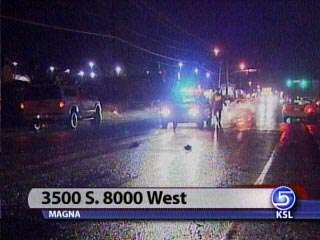 The accident happened around 8:00 last night. Salt Lake County Sheriff's deputies say for some reason the man and dog were in the middle of the road at 3500 South and 8000 West. A car headed west on 3500 South hit the man and the dog. Deputies say the driver tried to swerve, but it was too late. The man's head hit the side of the car. He was flown to LDS Hospital. The dog was killed.
Lt. Chris Bertram/ Salt Lake County: "From just a preliminary investigation it appears that he was going within the speed limit. This is just an unfortunate circumstance where he was just not able to see the individual until the last minute."
Deputies say lack of lighting and rainy weather likely hindered the driver's view.
Authorities are issuing that familar reminder-- slow down and watch out.
Police say there were two people in the car. Neither of them were hurt.
×
Most recent Utah stories