Estimated read time: 2-3 minutes
This archived news story is available only for your personal, non-commercial use. Information in the story may be outdated or superseded by additional information. Reading or replaying the story in its archived form does not constitute a republication of the story.
Jed Boal ReportingSudden blasts from this series of storms wreaked havoc on roads throughout much of the state. Two people were killed and many more injured in multiple crashes.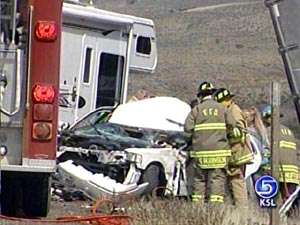 It was a tough day for driving at times and a trying day for state troopers who scrambled to keep up with all of the crashes. A microburst hailstorm caught drivers off guard in Juab County and the string of crashes paralyzed traffic for three hours.
The storm unloaded a sudden torrent of hail and rain on a stretch of I-15 south of Yuba Lake.
Jennifer Davis, Witness: "All of a sudden there were cars flipping, sliding off the road. It was crazy."
Six separate crashes in a half-mile. Cars, semis and RV's slowed in the storm, others lost control and slammed in from behind on the treacherous surface.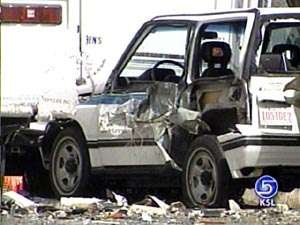 Eric Love, Montana Resident: "Was thick with hail about like that, and turned into just an icy roadway."
Trooper Kory Wright, Utah Highway Patrol: "We had a storm come through. It was one of those micro-burst storms that hit the freeway and it took up about, maybe a mile, maybe not even a mile of road. Vehicles came into it and we had vehicles starting to slide into the median. We had probably two or three sliders."
Motorists who escaped the wreckage of mangled metal rushed to help.
Jennifer Davis, Witness: "It was scary. You didn't know where to be...if you should stay in your car or go help other people."
76-year-old Marvin G. Peterson of Richfield died, ten others were seriously hurt. A trucker who jack-knifed his rig escaped unhurt.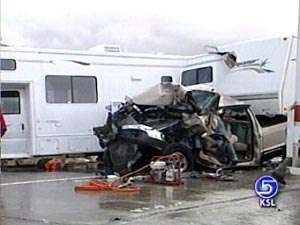 Shawn Getfinger, Caught in Crash: "I could tell it wasn't going to slow down. I didn't realize the roads were that slippery. Just over the hill it was rain."
A half hour later in Tooele County a crash killed a two year old boy. State Troopers say a large pick-up tried to pass other cars on State Road-112 in a downpour of rain and hail, lost control, and rolled. Troopers say only the driver was wearing a seatbelt.
Lt. Mike Rapich, Utah Highway Patrol: "It's not worth the few seconds you're going to save by passing another vehicle and going faster. And that's what you're going to save is just a few seconds."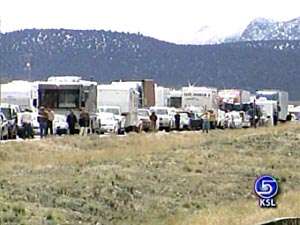 There's extra traffic on the road with Easter weekend approaching. State troopers want everyone to take it easy and get where they're going safely.
×
Most recent Utah stories