Estimated read time: 2-3 minutes
This archived news story is available only for your personal, non-commercial use. Information in the story may be outdated or superseded by additional information. Reading or replaying the story in its archived form does not constitute a republication of the story.
Coco Warner ReportingThe Utah Department of Transportation is launching a bridge repair project this week, and if you travel along I-215, chances are that you'll run into some of the resulting construction.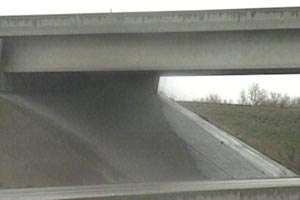 A freeway bridge, under the best circumstances, has a lifespan between 30 to 40 years. That means the bridges along I-215 are getting a bit past their prime.
Nile Easton, UDOT: "We're going to be looking at a bunch of bridges that were basically built in the 1980's, during this time there was this method they thought would speed up the process of building these bridges-- having steel forms that could be left afterward to form the concrete on."
Even though many of the bridges look like they're in good shape, the lack of corrosion may actually be deceptive. It's what's underneath the steel forms that has UDOT concerned.
Nile Easton, UDOT: "A lot of the salt that we put on the roads that leaks down is being caught by these steel basins and it's causing problems with the steel rebar. So we're going to go in and test that and see if that's the problem, and if it is we're going to remove the steel."
Repair is scheduled to begin tonight at 9 p.m. on the 2200 North bridge. Work will be done during the evening from nine until 6 a.m., Sunday through Thursday. Traffic may be restricted to one lane.
Other project locations include I-215 at 1700 North, ramps at the I-215/I-80 interchange, I-215 at 2300 East, I-215 to I-80 ramp over 500 South and Big Cottonwood Creek near Knudsen's Corner.
Nile Easton, UDOT: "As soon as you see orange barrels out or orange signs, remember to slow down and drive extra alert in those areas because there' s equipment and other things."
The bridge repair work only marks the beginning of the road construction season. Something else you need to prepare for is the re-striping of I-15. UDOT will begin that project as soon as the weather permits.
×
Most recent Utah stories