Estimated read time: 2-3 minutes
This archived news story is available only for your personal, non-commercial use. Information in the story may be outdated or superseded by additional information. Reading or replaying the story in its archived form does not constitute a republication of the story.
Jed Boal ReportingUniversity of Utah students have built a wall to help make a point about tolerance, understanding and diversity. A legendary football coach who broke down a few barriers joined the students on campus to echo the message.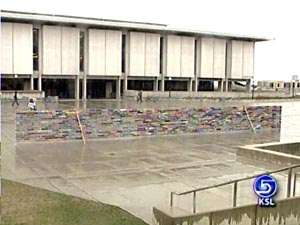 The wall in the Marriott Library Plaza is not the beginning of a new building, it's a lesson in diversity entitled "Writing on the Wall." Each brick displays an oppressive word students have heard. Insults and slurs so offensive silence was their only response.
Jasmine Linam, ASUU Diversity Board Director: "This is a representation of a wall of silence. This is what you're up against every time you are silenced. Just to give you something to look at that is actually physical."
Herman Boone teamed up with the students to drive home the message.
Herman Boone, Motivational Speaker: "I speak from my heart. I speak from what I believe in."
Boone was a retired high school football coach until the release of the movie "Remember the Titans" five years ago. That movie was his story. In 1971 the schools in Alexandria, Va., were forced to integrate their all-black and all-white schools. Boone was brought in to coach the team amid extraordinary racial tension. Boone and a popular white coach shaped the youths into state Champions. But the coach says the movie is not about football.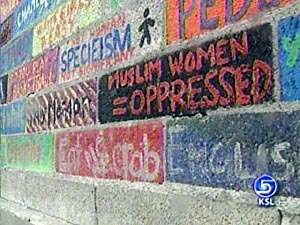 Herman Boone: "Remember the titans is about a bunch of courageous young men who in Virginia in 1971 simply found a way to talk to each other, who didn't look like each other."
By talking they created trust, the emotional glue that bound the team. Boone praised the Utah students for pushing that conversation.
Herman Boone: "Learn to accept the soul of a person, rather than reject that person on the basis of the color of their skin."
Friday, students will rally together and in a symbolic gesture, tear down the wall of silence, a reminder not to stay silent when words of oppression are spoken. Walls are coming down, but Boone says everyone needs to keep working at it.
The students will tear down the wall Friday afternoon at two.
×
Most recent Utah stories