Estimated read time: 2-3 minutes
This archived news story is available only for your personal, non-commercial use. Information in the story may be outdated or superseded by additional information. Reading or replaying the story in its archived form does not constitute a republication of the story.
(KSL News) -- Health advocates across the country have been mounting a push to tighten regulations on tanning salons. Here in Utah counties regulate the industry.
On days like this when the weather is bad, many people craving the sun head to tanning salons. It's up to individual counties' health departments to inspect the salons and pass any regulations for the industry.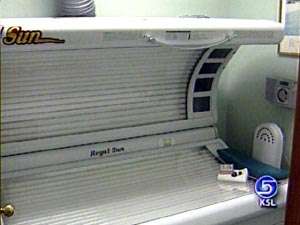 Michael Ross Olsen, Loves Tanning: "I come tanning once a week, once a week, that's it."
Michael Ross Olsen: "It just makes you feel good -- get a little sun, get a little color in your skin so you don't look so pale."
Utah County knows a lot of people like to tan so it's trying to make sure tanning salons are as safe as they can be. Yesterday, the Board of Health approved a few new rules, like making women sign a form that they would consult a doctor before tanning while pregnant.
Rooms will now have to have thermometers to make sure they don't get too hot. If a bed cracks, the health department now has the capability of shutting it down.
The department also wants to make sure the beds have the right lamps in them so salons will have to post this information on the wall.
Ron Tobler, Utah County Health Dept.: "While some of these bulbs are interchangeable, other kinds can produce a frankensteinian kind of bed that produces the kind of light that was not intended."
Harvey Woodyatt, 'Perfect Tan' Owner: "Everything they did yesterday was actually a benefit for our clients. People know that when they come to a tanning facility in Utah County it's going to be a clean facility and been inspected."
Recently the World Health Organization and the American Academy of Dermatology suggested no one under the age of 18 should be using tanning beds. In Utah and Salt Lake counties minors have to obtain a parent's consent before they can go tanning.
×
Most recent Utah stories