Estimated read time: 1-2 minutes
This archived news story is available only for your personal, non-commercial use. Information in the story may be outdated or superseded by additional information. Reading or replaying the story in its archived form does not constitute a republication of the story.
Kimberly Houk ReportingIn the city of 60,000 people it was time for a Taylorsville Police force, one that would be completely devoted to patrolling the streets of the growing community.
Jake Elsasser, Taylorsville Police Dept.: "I always wanted to work for Taylorsville. I grew up in the area, went to Taylorsville Hight."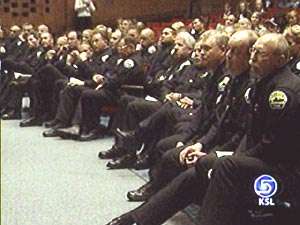 And now Officer Elsasser is back home, responsible for keeping the streets of Taylorsville safe. It's only his first night out and he already knows he will deal mostly with drugs and domestic violence, but he says the new police force is ready to handle whatever is thrown at them.
Jake Elsasser: "The force is just going to grow. There's going to be so many opportunities in K-9, traffic, investigations. It's just pretty sweet."
As it stands the new department includes 49 sworn officers and even has a couple of forensic specialists. Everyone was recently sworn in at a special ceremony.
Jake Elsasser: "That almost brought tears to my eyes, cause i was so emotional - and just having the family there. My wife came up and pinned the badge on, and my two little kids were there. I thought that was neat."
With the ceremony wrapped up Officer Elsasser went straight to work -- a night shift that brought him very little action his first night. Just one DUI bust in his first hour on duty, but he does expect to be very busy before too long.
×
Most recent Utah stories