Estimated read time: 2-3 minutes
This archived news story is available only for your personal, non-commercial use. Information in the story may be outdated or superseded by additional information. Reading or replaying the story in its archived form does not constitute a republication of the story.
Carole Mikita ReportingThe close of Annual General Conference of The Church of Jesus Christ of Latter-day Saints brought a strong warning about pornography. Just six months ago Pres. Hinckley talked about what he called the corrupting influence of pornography. Church leaders are continuing to hear that many church members have this problem.
This year also brings a special anniversary for Latter-day Saints -- the 200th anniversary of the birth of Joseph Smith.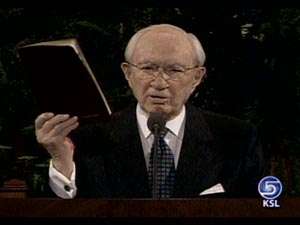 As the choir sang his name President Gordon B. Hinckley talked of Joseph Smith's influence. Books, symposia, pageants and a movie will pay tribute to the church founder this year. Joseph's revelations make this church different he said, starting with his vision of God the Father and Jesus, the Son.
Pres. Hinckley: "I submit that in the short time of that remarkable vision Joseph learned more concerning Diety than all of the scholars and clerics of the past."
The Book of Mormon, translated by Joseph Smith, is now in 106 languages.
President Hinckley: "It has recently been named by those not of our faith as one of twenty books, ever published in America, that have had the greatest influence upon those who have read them."
April 6th is the 175th anniversary of the Church's founding. The name, he says, also came through revelation.
Pres. Hinckley: "Was it Joseph Smith's? Was it Oliver Cowdery's? No, it was the Church of Jesus Christ restored to earth in these latter days."
Also today, a warning about pornography that many church members struggle with. Elder Oaks called it an avalanche of evil that affects relationships.
Elder Dallin H. Oaks, Quorum of the Twelve Apostles: "Pornography is also addictive. It impairs decision-making capacities and it 'hooks' its users, drawing them back obsessively for more and more."
In closing President Hinckley mentioned awards from the American Red Cross and Rotary International for church donations to help wipe out measles and polio in Third World countries. President Hinckley closed with a reminder to church members to continue working with other organizations and faiths in humanitarian efforts and not to worry about who gets the credit.
×
Most recent Utah stories