Estimated read time: 2-3 minutes
This archived news story is available only for your personal, non-commercial use. Information in the story may be outdated or superseded by additional information. Reading or replaying the story in its archived form does not constitute a republication of the story.
Sam Penrod ReportingA twist of fate has helped reunite a Spanish Fork woman with the wedding ring she lost.
A wedding ring that has turned up missing has probably caused a small crisis in almost every household once or twice. After a month without any sign of the ring, a Utah County couple had almost given up hope the ring would be found, until something far more than a coincidence happened yesterday.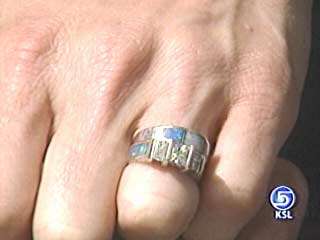 Today Kerina Barney is finally wearing her wedding ring. It's been a long month without it since it disappeared.
Kerina Barney, Lost Ring: "We were devastated, something that could not be replaced was gone."
Kerina had spent weeks looking for her lost ring.
Kerina Barney: "Turned the house upside down, inside out, washer and dryer tore them apart, tore apart the garbage disposal, went through the garbage."
The ring seemed gone forever, until something caught the eye of Bill Barney at the security checkpoint at the Provo courthouse when a woman was going through the metal detector.
Bill Barney: "It was a ring I had custom made with an inscription inside, so I knew it was hers immediately. I told the woman it was my wife's ring and asked her where she got it."
The woman who had the ring told Barney she found it in the Spanish Fork Park, a place Kerina Barney thought she could have lost it. Barney immediately called his wife with the great news.
Bill Barney: "She didn't believe me at first and she said, 'If you're joking I'm going to kill you.' I said, 'I'm serious, I found your ring."
Kerina Barney: "The sentimental value was all of it, he kept saying, Sweetie we'll get you another one, we'll make another one, we'll get another.' And I said, No it's not the same, that's my ring."
Bill Barney: "Just the chances that somebody would find it and bring it back to here and that I would actually see it versus one of the other deputies is amazing."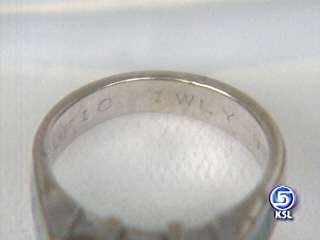 Kerina Barney: "You tell me that ring does not belong to me; that's my ring, it belongs on my finger that's how it got back to me."
The woman who had the ring quickly disappeared from the courthouse. While it is not believed that she stole the ring, police say at the very least, the woman should have turned in such a valuable item to them.
×
Most recent Utah stories