Estimated read time: 1-2 minutes
This archived news story is available only for your personal, non-commercial use. Information in the story may be outdated or superseded by additional information. Reading or replaying the story in its archived form does not constitute a republication of the story.
Keith McCord ReportingThe next time you travel on an airplane you should be aware that there's something else that you cannot take on board. The TSA has announced a ban on all lighters-- everything from the cheap plastic kind to the more expensive electric/battery operated units. The ban goes into effect next Thursday, April 14th.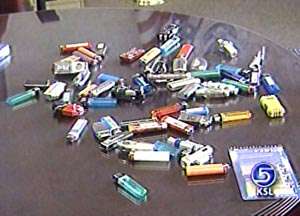 Earl Morris, Federal Security Dir. T.S.A.: "The ban is not an attack on smokers, this is a security measure intended to reduce securities vulnerabilities and insure the execution of the law."
At all airports lighters are no longer allowed inside security areas, and they are also banned from all checked and carry-on luggage. TSA screeners will begin enforcing this beginning next Thursday. Last December, congress passed a law adding butane-type lighters to the TSA's "Prohibited Items List".
Earl Morris, Federal Security Dir. T.S.A.: "This new policy was announced at the end of February, but TSA wanted to give passengers time to adjust before actually enforcing the ban."
After the September 11th attacks airports started screening luggage for all sorts of potentially dangerous items, confiscating thousands of items from carry-on bags every day.
If you forget and carry a lighter in your bag, you'll have three options.
Earl Morris, Federal Security Dir. T.S.A.: "The first of which is to give the prohibited item to the person not traveling with them. The second is to return the item to the vehicle. And the third is to voluntarily give it to TSA."
Most likely, if you forget you won't be penalized, unless you have intentionally tried to hide the lighter. For the moment, matches are still allowed to be carried on, as many as fou books; however, TSA is considering a ban on those too.
×
Most recent Utah stories