Estimated read time: 2-3 minutes
This archived news story is available only for your personal, non-commercial use. Information in the story may be outdated or superseded by additional information. Reading or replaying the story in its archived form does not constitute a republication of the story.
Sandra Yi ReportingA thief in Layton stole a car, but got away with something else that's much more valuable to the owner.
Randy Allred parked his car behind a pizza shop. Thirty minutes later the car was gone and so was his canine companion. Now Allred is on a desperate search.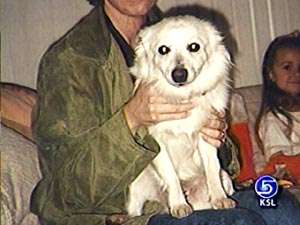 Randy Allred: "I opened the door of the store and the car was gone. I don't even want the car. They can have the car."
Not for his stolen car, but what inside, his four-year old dog, Shasta.
Randy Allred: "She is used to me running out and jumping in the car, leaving on a delivery, so she probably didn't even acknowledge someone getting in. She was probably asleep in the back."
Allred delivers pizzas. On Monday morning he parked his car behind the restaurant. He went in, then came out to find the car and the dog gone.
Randy Allred: "I just thought they'd kick her out. She's not friendly. She's not going to try and get petted."
Allred called police, but last night his friend spotted the stolen Subaru in Ogden, without the dog.
Randy Allred: "She has to be ok, and I have to find her. I can't not find her."
But there's still no sign of Shasta.
Randy Allred: "I can't stop looking for her. This is totally an unhealthy obsession, but I can't not think about her."
Shasta is an American Eskimo mix. She's all white, but has a dark right ear. Allred is especially worried because the dog has health problems. He hopes she'll turn up safe in a shelter.
Randy Allred: "I'm so scared for her. I just want her to come home."
The dog was wearing a chain collar, but does not have ID tags. She does have a microchip so a shelter will be able to identify her. If you have any information, call Layton Police.
×
Most recent Utah stories