Estimated read time: 2-3 minutes
This archived news story is available only for your personal, non-commercial use. Information in the story may be outdated or superseded by additional information. Reading or replaying the story in its archived form does not constitute a republication of the story.
Keith McCord ReportingAppearing on a major network television show is a rare opportunity for most of us, but a Utah State University student will get his shot tonight. Nick Creamer has a unique talent that caught the attention of Jay Leno!
Nick Creamer makes miniature paper airplanes, out of Starburst candy wrappers. But it's HOW he made it that's getting him on the Tonight Show. Yep, Nick can make a paper airplane with his tongue!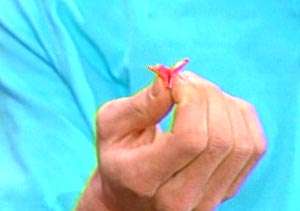 He demonstrated it for us-- he popped the wrapped candy in his mouth, and 31-seconds later produced a tiny airplane. Nothing fancy, but an airplane indeed. Now he'll do it in front of a national TV audience.
A few months ago, Nick's mom sent an e-mail to Leno's producers.
Nick Creamer: "And I answer the phone and the guy says, 'Hey, is Nick there?' And I said, 'This is Nick.' And he says, 'This is Steve from the Tonight Show,' and I about died and said,' Ok, ok, yeah, hold on."
Nick will appear with several others on stage with Jay Leno in a segment called "Teenage Wasteland"-- basically goofy stunts performed by young people. Nick got his idea after seeing a similar trick on a Starburst commercial several years ago.
Nick Creamer: "I thought that was the coolest thing ever, so I ran down to the store and bought two bags of Starburst, and spent the rest of the night figuring out what I could do, and came up with this!"
After it's in his mouth, Nick unwraps it, tucks the candy into his cheek, then uses his teeth and tongue to fold the paper into thirds, and then folds the wings. The wings take shape as he pulls it out of his mouth.
Nick Creamer: "Yeah, it's a slimy mess when it comes out."
The Tonight Show is flying Nick, his wife and mom to California, and providing a limousine. Nick's wife Lisa says she's not embarrassed by all this…
Lisa Creamer: "I guess it just proves that he's a really good kisser. I mean if he can unwrap a Starburst with your mouth, you're supposed to be a good kisser, and he can fold it into a paper airplane...so...(laugh)"
By the way, Nick can also make planes out of Tootsie Roll wrappers. He's a sophomore at USU and wants to be a pilot someday. Figures.
×
Most recent Utah stories