Estimated read time: 2-3 minutes
This archived news story is available only for your personal, non-commercial use. Information in the story may be outdated or superseded by additional information. Reading or replaying the story in its archived form does not constitute a republication of the story.
Carole Mikita ReportingAn historic meeting took place in Salt Lake today between leaders of Jewish Holocaust survivor groups and The Church of Jesus Christ of Latter-day Saints. They emerged from the Family History Library following several hours of discussions.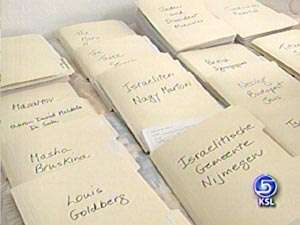 The two faith groups made an agreement in 1995 to stop the Latter-day Saints from entering Jewish Holocaust victims' names into genealogy indexes and performing proxy baptisms for them. The meeting occurred because the Jews say that is still happening.
Ernest Michel is commemorating a remarkable anniversary. 60 years ago today he escaped from a Nazi concentration camp.
Ernest Michel, World Gathering of Jewish Holocaust Survivors Chairman: "My parents were baptized by the Mormon church. Therefore, I as a holocaust survivor, feel very strongly about this issue and the result of our discussion has been one that I can live with."
Latter-day Saints are encouraged by their church leaders to perform proxy ordinances, such as baptisms for their ancestors. Ten years ago those church leaders agreed to stop that practice specifically for Jewish Holocaust survivors and others.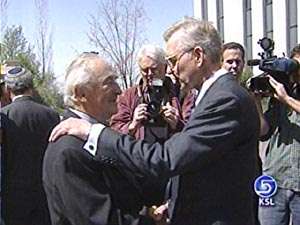 Helen Radkey says she has been employed by the Jewish group and has discovered some 5-thousand such names submitted to the genealogy index and then for temple ordinances. For example, there is Abraham Soesan, who died on June 11th, 1943 in the Nazi death camp of Sobibor; apparently a proxy sealing of him to his parents was performed March 24th, 2005.
Helen Radkey: "I'm looking for some sort of an ending. I want everyone involved to be treated fairly but especially the Jew and especially the Jews who have been affected by the holocaust. I want their names to be remembered for who they were."
The Jews and Latter-day Saints say they trust and respect one another and will form a group within the next six weeks to investigate the Jewish names.
Elder Todd D. Christofferson, LDS Family History Dept. Former Manager: "What we are particularly looking at, at this point is how do names get into our data bases that are unrelated and by our policy shouldn't be there. What can we do to deal with that?"
Latter-day Saint leaders say names that pass through temples are not added to church membership roles.
×
Most recent Utah stories