Estimated read time: 2-3 minutes
This archived news story is available only for your personal, non-commercial use. Information in the story may be outdated or superseded by additional information. Reading or replaying the story in its archived form does not constitute a republication of the story.
Tonya Papanikolas ReportingIn 2003 more than 57-thousand law enforcement officers were assaulted in the line of duty. Many of those cases happen as the officer is trying to make an arrest. The problem is happening here in Utah too.
We spoke to the Highway Patrol. One trooper said the majority of people he sees being arrested have a pocket knife on them, so officers have to learn to deal with weapons, attacks, adrenaline, and situations they often can't predict.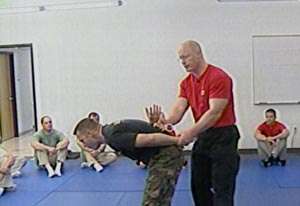 "There's no better control out there than a pair of handcuffs on somebody."
Making an arrest can be very dangerous for an officer.
Sgt. Hoby Metz, Utah Highway Patrol: "If you're not anticipating someone coming at you or someone pulling a gun or a knife, you probably won't survive."
Sgt. Rudy Taylor, Utah Highway Patrol: "Because of the nature of the job, the probability of being hurt or killed in the line of duty is high and getting higher."
Law enforcement officers say they need to be prepared for anything because potential prisoners have a way of fighting back.
Trooper Thomas Decarlo, Utah Highway Patrol: "Once you place a cuff on an individual, his freedom feels like it's being robbed from him, so how he might react is one in a million, you never know."
The Highway Patrol wants to make sure its troopers are prepared so today instructors taught some lessons in "arrest control." Troopers learned cuffing and searching techniques along with knife defense and ground fighting.
In 2003 more than 200 law enforcment officers were assaulted in Utah. While 15-percent of those cases involved a dangerous weapon, 84-percent involved physical fighting. A couple years ago, Trooper Thomas Decarlo was assaulted after a traffic stop.
Trooper Thomas Decarlo, Utah Highway Patrol: "Got out of my vehicle, not sure what I was going to encounter. Individual takes his shirt off and charges at me."
Sgt. Metz has tried to arrest a man with a gun.
Sgt. Metz: "As I went up to make contact with him, then a scuffle ensued and we were wrestling on the ground."
Both men were able to stay safe, they say training like this helps them keep their minds and bodies ready for anything. A couple dozen troopers received this training today and they're not new employees. The Highway Patrol requires officers to come back for training every year.
×
Most recent Utah stories