Estimated read time: 2-3 minutes
This archived news story is available only for your personal, non-commercial use. Information in the story may be outdated or superseded by additional information. Reading or replaying the story in its archived form does not constitute a republication of the story.
Jed Boal ReportingUtah soldiers serving in Afghanistan set foot on Utah soil today for the first time in more than a year.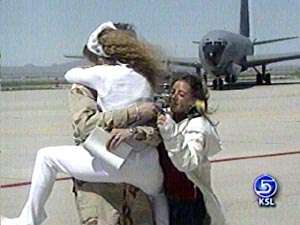 The conflict in Iraq is the center of the global war on terrorism, but soldiers still serve in Afghanistan too. The 1st Battalion of the 211th Aviation Regiment spent a year there, providing helicopter aerial support and helping the Afghan people.
The soldiers' families are eager to move on. They've lived a lot of life without their loved ones while the soldiers of the 1st Battalion of the 211th Aviation Regiment stood guard in the air in Afghanistan.
Fourteen babies are bonding with their fathers for the first time. After back-to-back deployments totaling more than two years, Spc. Brad Munson barely knows his baby Alysa.
Spc.Brad Munson, 1st Batt. of the 211th Aviation Reg.: "Just by pictures and email."
Reporter: "So you must have really been looking forward to this day." Munson: "I'm ecstatic."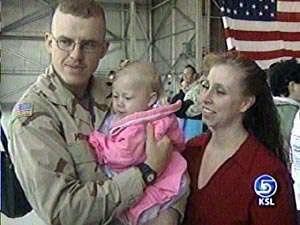 The unit adopted a small Afghani village and helped the people as much as they could. They also rooted out remnants of the Taliban.
Chief Warrant Off. Gary Cloward, 1st Batt. of the 211th Aviation Regiment: "There were some bad guys over there, we hunted them down a got a couple of them. A lot of work helping the people improve their lives."
Chris Johnson is one of four brothers and a brother-in-law to serve in combat.
Chris Johnson, 1st Batt. of the 211th Aviation Regiment: "We feel we have a duty to our country. It's something everybody should do."
Darci Johnson, Soldier's Wife: "You grow from it, very blessed, and very proud. I wouldn't do it again, but I wouldn't trade it for anything."
Marilyn and Paul Johnson are relieved it's over.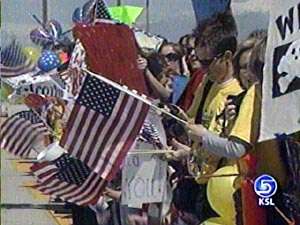 Marilyn Johnson, Soldiers' Mother: "Two and a half years, so it's bee a really long haul. We've been really proud of them."
Paul Johnson, Soldiers' Father: "It's so incredible to have them home safe and sound. We still pray for the ones that are still there, but things are looking better."
Most of the remaining members of the 1st of the 211th get home Saturday.
×
Most recent Utah stories