Estimated read time: 2-3 minutes
This archived news story is available only for your personal, non-commercial use. Information in the story may be outdated or superseded by additional information. Reading or replaying the story in its archived form does not constitute a republication of the story.
Sandra Yi reportingPolice have arrested a man for allegedly killing his live-in girlfriend. The woman's body had been dumped in the Pineview Reservoir.
Police arrested the suspect this morning, after he made some sort of confession.
Police don't know exactly what led up to the murder, but they believe it happened in the couple's apartment, sometime Friday morning.
That night, one neighbor saw something suspicious.
Alesha Garcia, Neighbor: "It was Friday night. We were coming outside because we had to go to salt lake to pick up my brother."
That's when she saw her neighbor, 51-year old Joseph Weatherspoon, carrying something heavy outside. It was about 9:30pm.
Alesha Garcia, Neighbor: "He was carrying out some sort of bag, but it was two garbage bags wrapped together."
She noticed he was having some trouble with it.
Alesha Garcia: "He was struggling with it because he slipped and he had to heave it up to him because it was slipping and he put it in his van, and he rushed in his house and he got some boxes, which looked like it was filled with stuff."
Garcia just thought her neighbor was moving out. So she was shocked, when police came to her door, the next day.
Alesha Garcia: "I told them what happened, they told me what happened, and it was just kinda scary."
Police say there's evidence the suspect killed his girlfriend inside their apartment.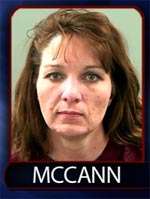 Lt. Loring Draper, Ogden Police Dept.: "Apparently, they've been living together for about 4 months. According to neighbors, they had been fighting for the past little while."
Police identified the victim, as 38-year old Johanna McCann. Yesterday, a fisherman found her body, in the Pineview Reservoir. Police say it was wrapped in something. They arrested Weatherspoon after he made some sort of confession to the crime.
Rachel Vigil: "I've seen him around. I couldn't believe it."
That was the reaction from most neighbors. They say Weatherspoon was always friendly, but his girlfriend kept to herself.
Rachel Vigil: "He was nice. He said hello to me and stuff. He seemed like a nice guy, always going to work and stuff. Shocking."
Police are still investigating. They will not say how the victim died, but yhey did tell us she has a minor criminal history. There was no history of domestic violence, at the couple's home.
×
Most recent Utah stories