Estimated read time: 2-3 minutes
This archived news story is available only for your personal, non-commercial use. Information in the story may be outdated or superseded by additional information. Reading or replaying the story in its archived form does not constitute a republication of the story.
Ed Yeates ReportingLocal firefighters are looking at a new high tech system that tracks in real time everybody caught up in a catastrophic event - like a terrorist attack, a major fire, or an earthquake.
New York City Firefighters have already bought into this new system developed by Raytheon's Homeland Security Division. Modeled after a simple suitcase command board, incident commanders can see immediately where everybody is positioned.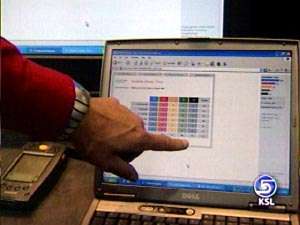 Charles Blaich, Raytheon Inc.: "So you can see the incident commander is looking at what's going on. His operation chief is the only one that can move these things around. Notice the color that is starting to develop around these units."
Charles Blaich, a retired incident commander who was involved with 9-11, demonstrates in a high rise building. The color changing to red on shows the self-contained breathing equipment has run out of air. The unit must be moved immediately to rehab outside the building. Other color codes show when arriving units are dispatched and how they're moved about within the building.
But this is only part of it. Bar code tags can be put on victims. They're scanned and assigned to a hospital. Both the hospital and the incident commander know where the victim is going.
David Gellen: "Next time, this refreshes every minute, that number is going to jump from 116 to 117, and my critical count which was 28 will jump up to 29 next time the screen refreshes."
The information is instant and available to family members trying to find out what's happened to victims.
David Gellen, Raytheon Inc.: "It becomes as simple as tracking a package like Fed Ex does. If I can track where your package is for Fed Ex, I can track where your loved ones are."
Volunteer rescuers and first responders can be identified immediately, their movements electronically tracked.
David Gellen: "I've got a guy in the parking lot over here. I've got two guys who are actually in the building. And I've got one over by this tree."
In a bioterrorism emergency the system could even track electronically whose been immunized, who hasn't, and their movements - where they've located.
×
Most recent Utah stories