Estimated read time: 2-3 minutes
This archived news story is available only for your personal, non-commercial use. Information in the story may be outdated or superseded by additional information. Reading or replaying the story in its archived form does not constitute a republication of the story.
SALT LAKE CITY -- A Salt Lake City man died this morning following a fight in his own front yard. Police have arrested the man's two nephews, who they say attacked him after an argument about his living arrangements.
The 51-year-old victim, Doug Brundel, died around 2:00 Tuesday morning. His family told KSL his death is the result of a brain aneurism that ruptured during Monday's fight.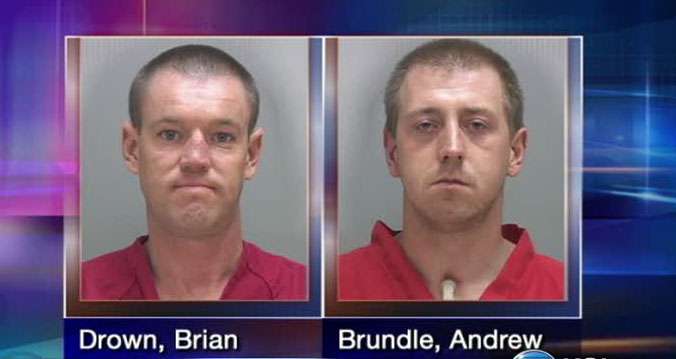 Salt Lake City Police have arrested Brundel's two nephews, 33-year-old Brian Drown, and 25-year-old Andrew Brundel, who they say attacked their uncle on the front porch of his 81-year-old mother's house in the 1300 South block of Valentine Street.
The fight police say, stemmed from a dispute over Brundel living with his mother and allegedly supplementing his income with her Social Security checks.
Salt Lake City Police Sgt. Robyn Snyder said, "They were confronting him about the living arrangements of some sort, and that is what sparked the whole argument that turned physical."
Family members say the two nephews did punch their uncle several times but that it was after they left the house that Brundel collapsed in the front yard.
When police arrived on scene, he was unconscious. He was transported to the hospital where he was placed on life-support and later died.
"This has not yet been ruled a homicide, although, yes, he had passed away. He did have a medical condition that we are not able to speak about right now that may have contributed to his death," Snyder said.
Police say Brundel did not have any obvious signs of injury on his body, which leads them to believe this could have been a medical issue. But they say until a medical examiner can confirm his cause of death, the two nephews will be charged with aggravated assault. Then, depending on the results and their motives, those charges could be reduced to a misdemeanor or enhanced to homicide.
------
Story compiled with contributions from Shara Park and Randall Jeppesen.
×
Most recent Utah stories