Estimated read time: 1-2 minutes
This archived news story is available only for your personal, non-commercial use. Information in the story may be outdated or superseded by additional information. Reading or replaying the story in its archived form does not constitute a republication of the story.
Sandra Yi ReportingJill Pointer: "I looked out and he was laying on the ground, in the pool area."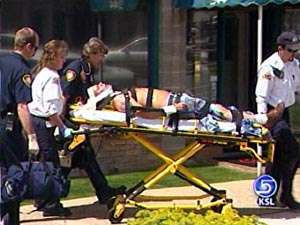 A hit and run suspect falls three stories from an apartment complex after running from police. The man was taken to the hospital in serious condition. Police say he had been driving erratically and hit three cars.
One of the victims was also taken to the hospital and remains in serious condition. He was making a left turn on 500 East and didn't realize the suspect was driving on the train tracks, heading straight for him.
Police say the suspect was going between 40 and 50 miles an hour. The two cars crashed and the suspect took off on foot. He ended up at an apartment building on 300 East, between and 3rd and 4th South.
Police say, he ran up to the third floor and climbed over the railing. He grabbed onto something, which broke, and he fell three floors onto the pavement.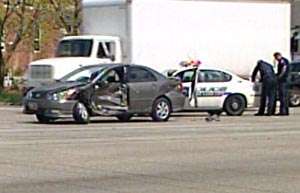 Jill Pointer, Resident: "I was inside and I heard a thump, and I heard a wrangling noise, like railing that sounded like it was moving back and forth. And I looked out and a guy was on the ground."
Pointer saw him moving when help arrived. He was taken to the hospital in serious to critical condition.
Police say before the crash the suspect hit two cars in the area of 2100 South and 700 East. Witnesses say the car was in the middle of two lanes when he hit the cars going north on 700 East.
Police believe the suspect, who is about 40 years old, was under the influence of drugs or alcohol. He faces DUI and reckless driving charges.
×
Most recent Utah stories