Estimated read time: 2-3 minutes
This archived news story is available only for your personal, non-commercial use. Information in the story may be outdated or superseded by additional information. Reading or replaying the story in its archived form does not constitute a republication of the story.
Carole Mikita ReportingThe Jewish holiday of Passover begins tomorrow night and some families here are already preparing.
The Jewish Sabbath begins Saturday at sundown. One of the things Orthodox families did today to get ready for Passover was the traditional burning of food with leavening in it. Bread, pasta, crackers and cookies all go up in flames--a burning, literal and symbolic to Orthodox Jews as they prepare for Passover when they will eat unleavened bread, just as the ancient Israelites who escaped from slavery in Egypt. They unite with their struggles and acknowledge today's challenges.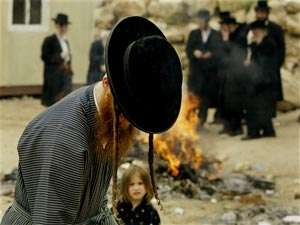 Rabbi Benny Zippel, Chabad Lubavitch of Utah: "The power of depression, of discouraging thoughts and so on and so forth is something that did not only exist 33-hundred years ago but something that is constantly, potentially with us and within us to this very day."
They also feel united with their fellow Jews throughout the world who have performed this same ceremony in their towns and cities today.
Rabbi Zippel: "The leavened food, such as bread is symbolic of arrogance, something that is full of air, very puffed up. Passover, when we eat the motza, symbolizes the importance of humility."
Rabbi Zippel and his wife teach their six children that Passover also celebrates freedom and the establishment of the Jewish nation.
Avreni Zippel, 13 Years Old: "To be able to know how to read and to understand the prayers, it gives you a deeper meaning and it makes you feel more important about it, that you know what you're talking about, you know what you're doing."
Mendy Zippel, Age 12: "I'm just proud that my grandparents did it thousands of years ago..."
Tomorrow night as Passover begins the Zippels, and many other Jewish families, will have a dinner called a seder, inviting extended family and friends to join in this sacred tradition.
×
Most recent Utah stories