Estimated read time: 2-3 minutes
This archived news story is available only for your personal, non-commercial use. Information in the story may be outdated or superseded by additional information. Reading or replaying the story in its archived form does not constitute a republication of the story.
Ed Yeates ReportingCrowds packed a back room in the University of Utah Union Building this afternoon to watch a feisty sumo wrestling match, but this competition was like none you've seen before.
While these aren't your heavy-duty sumo wrestlers in the flesh they are in the metal and just as intimidating. Once signaled to begin via infrared sensors the machines are on their own with no remote controls from their human masters.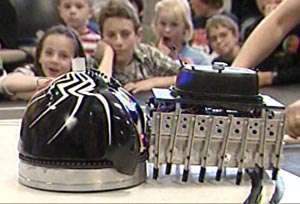 The machines really follow the same rules you would in sumo wrestling. They can either turn their opponent over, push him off the arena, or gain the center ring. The machines marched like gladiators or scurried like toy poodles. Some even tried to scoop up their opponent.
Like Pinnochio's nose one had a plunger that stretched out. Some ran away in fear. One team had a different idea.
Brian Leeflang: "When we go to the center, we raise our legs up into the shell so the sticky surface is on the ground and our weight is on it. Basically, it holds well enough that if you were to push it around, you would push the whole arena with it."
And that's exactly what it did, winning its round. Venom was a favorite. It had everything, including a two way walking foot, sensors in its eyes, rangefinders on its side, gears that allowed it to turn on its own base. Pretty sophisticated, but then, winning the final round here means you don't have to take engineering's final exam.
Dave Hale: "You have no idea how lucrative this would be if we didn't have to take the final. That's the competition right there. Wow."
And here comes Venom, turning, pushing and shoving his opponent almost like a real sumo, right off the arena floor. But in the final round, Venom did not make it. Robot number 6 was declared the winner of this year's Mechanical Engineering Day. Dave Hale and his team will have to take the final.
×
Most recent Utah stories