Estimated read time: 2-3 minutes
This archived news story is available only for your personal, non-commercial use. Information in the story may be outdated or superseded by additional information. Reading or replaying the story in its archived form does not constitute a republication of the story.
Alex Cabrero Reporting"This is a device that's apparently intended to injure or kill whoever plugs in this stereo."
Guests in a Salt Lake hotel off North Temple and 8th West could've been in a lot of trouble if a stereo was left on. Police believe the man who rigged gunpowder into a stereo was hoping to hurt someone, and that someone was his sister.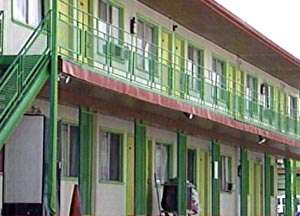 Police think if that rigged device would have burned the way it was built to, a lot of rooms in the motel could have been damaged. Even worse, people could have been seriously hurt, maybe even killed.
Thomas Endo Jr. doesn't look like someone who would hurt his sister, but police say in this case looks don't matter.
Det. Dwayne Baird, Salt Lake CIty Police Dept.: "It's certainly something his sister and his family ought to be concerned about."
Police blew up the device they found in Endos' sister's hotel room, before it blew up on its own.
Det. Baird: "This is a device that's apparently intended to injure of kill whoever plugs in this stereo."
That's right... a stereo. Endo's sister could enjoy new rooms and lots of cable channels in her hotel room, but when she realized her brother had stolen her stereo, she wanted it back. So with help from her parents, she was able to go to Thomas's house and get it. When she brought it back to her hotel and plugged it in, that's when her boyfriend noticed smoke coming out of the stereo.
Det. Baird: "He opens the back and discovers a device that has wires attached to it. It's wrapped in tape and it's obviously wired to the power supply of this stereo."
Bomb technicians detonated the stereo and Endo was arrested.
His parents didn't want to talk to us on camera, but they said he was only trying to scare his sister, he would never harm her. KSL also spoke with his sister on the phone and she's not so sure. She already has a restraining order against him... and she hopes he learned his lesson.
×
Most recent Utah stories