Estimated read time: 2-3 minutes
This archived news story is available only for your personal, non-commercial use. Information in the story may be outdated or superseded by additional information. Reading or replaying the story in its archived form does not constitute a republication of the story.
Jed Boal ReportingA Native American church leader who fought for his right to use peyote claims the Utah County Attorney continues to violate his religious freedom. It's the latest development in a four-year battle over the use of peyote in religious ceremonies.
James "Flaming Eagle" Mooney leads the Oklevueha Earthwalks Native American Church in Utah County. Four years ago the county prosecutor charged Mooney as a drug dealer for using peyote. Mooney argued the ceremonies are protected by law and the Utah Supreme Court agreed, but he's still afraid to practice his religion.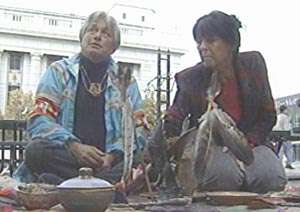 Last year James "Flaming Eagle Mooney" smoked legal herbs to celebrate his religious freedom. But his congregation has dwindled and Mooney is afraid to resume peyote ceremonies. Mooney claims Utah County Attorney Kay Bryson and his officers violated his civil rights by prosecuting him. Mooney says Bryson urged federal investigators into the case and gave them peyote seized from Mooney.
James "Flaming Eagle" Mooney/Church Founder and Leader: "He has lied to them and stated this is a drug situation and not a religious thing. So they have done everything, broken laws themselves in fact."
The Utah Supreme Court ruled Mooney and his non-Native American members could practice the peyote sacraments. But the US attorney has warned Mooney he may be prosecuted federally and not protected under federal law.
Mooney's lawyer says they want the peyote back, monetary compensation, and an end to the investigations.
Randall Marshall, Mooney's Attorney: "There's no reason he and the members of his church should not be able to freely assemble and participate in their religious ceremonies."
Peter Stirba represents Utah County. He says the Supreme Court ruling ended the state's case. He argues the county cannot be sued in a case in which the law was not clearly established.
Peter Stirba, Representing Utah County: "The law was uncertain, the law was ambiguous, and just because he got a favorable ruling at the Utah Supreme Court does not mean they have a civil rights claim or meritorious civil rights claim."
Mooney disagrees and he's ready to go to trial.
James "Flaming Eagle" Mooney: "You cannot legislate religious and spirituality by race or political affiliation for goodness sake."
Stirba says Utah County prosecuted the case in good faith and any ambiguity with federal peyote exemptions is up to the US Attorney and not an issue here. A Utah legislative effort to exclude non-native American from using peyote fizzled this year.
×
Most recent Utah stories