Estimated read time: 2-3 minutes
This archived news story is available only for your personal, non-commercial use. Information in the story may be outdated or superseded by additional information. Reading or replaying the story in its archived form does not constitute a republication of the story.
Alex Cabrero reporting An accident caught on videotape, reminds all of us why drunk drivers need to be taken off the streets. It was the kind of accident you usually see on the TV show "COPS."
But this drama happened right in South Salt Lake.
As reporters, we usually get to a crash scene after it happened. But to see this crash actually happen, even on tape, is startling for anyone who's never seen one up close.
It began with a DUI stop, and ended much worse.
"You're going like twice the speed limit."
You gotta hand it to UHP's DUI team, they know when something just doesn't seem right. In this case, this trooper was right on.
It was a DUI stop last Wednesday at about 24th South and 3rd West. The driver told the trooper he was going to get his bleeding girlfriend at a convenience store. When the trooper questioned him more, the chase began.
A minute later the driver looked like he had given up, and knew what he was doing was wrong. But when the trooper got out, the driver took off again.
Then, the one thing every police officer, every driver, fears the most.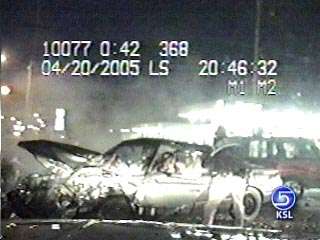 The trooper tries to get the driver out, but realizing the door was stuck, immediately went to help the people who were hit.
The driver then climbed out of his window, but was apparently so drunk, it took him a second to get on his feet. He ran, but police caught him a little while later.
Four cars in all, all because of a man trying to get away from police, not caring who was in his way.
Jodi Goulding, Witness: "I have glass chips on my hood I was so close. He was gonna hit me if I hadn't reversed my car."
The two people who were taken to the hospital are doing better now, and should be okay. The driver is facing DUI charges.
Looking at the video, it's lucky no one was killed.
×
Most recent Utah stories