Estimated read time: 2-3 minutes
This archived news story is available only for your personal, non-commercial use. Information in the story may be outdated or superseded by additional information. Reading or replaying the story in its archived form does not constitute a republication of the story.
Amanda Butterfield reporting A massive explosion and flames gobbled up a West Jordan home. The fast moving fire forced a family out into the streets and kept fire crews busy for hours in West Jordan.
The fire broke out just after 11 last night. It started in a home off 2800 West and 7900 South.
There have been questions whether it was a meth lab. Officials say they don't think that's the case, and don't think the fire is suspicious.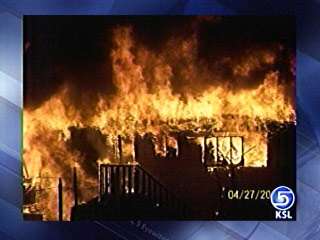 We received several calls from viewers late last night about an explosion they felt at least two blocks away from the fire.
The mother, father, and two young children who once lived here got out safely last night. They were taken to the hospital for minor injuries, but all are okay this morning. Fire officials say they are lucky to be alive, because their home was destroyed by the flames.
Michael Ray, neighbor: "There was a window right here, she was standing up in here screaming, these neighbors through ladder, got her out, then most of them ran out back. We handed one of the children over the fence, and it was getting so hot, blistering hot, we kicked out part of the fence so the parents could get out with their dog.
Investigators don't know what started the fire, but they say it moved through the home quickly. Neighbors miles away could see the smoke and flames. Others woke up to a loud bang.
Josh Wallace, Neighbor: "I just heard a huge explosion. It woke me right up. My mom came out yelling, thinking something had hit the house. And then she ran outside and saw those flames coming from the house."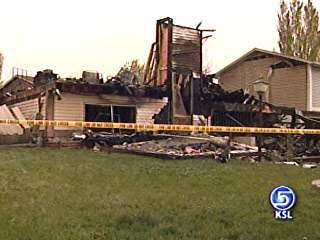 Peter Coats, Neighbor: "I heard a ka-boom! And when that boom went off, I told Janna 'Call 911,' and I ran down to the corner."
Several blaring explosions shook the neighborhood. Fire crews don't know what exploded, but whatever it was, it blew debris across the street. Neighbors jumped into action.
Peter Coats: "There was fire coming from the garage. It looked like the windows had been blown out. There were pieces of trim laying across the street."
Peter Coats and his friend didn't know who lived inside, but they rushed to the house with a portable fire extinguisher and tried to fight the flames. When that didn't work, they grabbed a garden hose, then a ladder.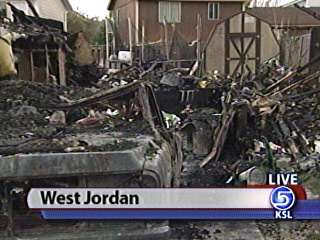 They climbed up and yelled into the house. They couldn't see or hear anyone at first, but finally Coats saw a woman and two young children safe in the yard.
When fire crews arrived, the house was fully engulfed in flames. They quickly knocked down the blaze, but the home is a total loss.
×
Most recent Utah stories