Estimated read time: 4-5 minutes
This archived news story is available only for your personal, non-commercial use. Information in the story may be outdated or superseded by additional information. Reading or replaying the story in its archived form does not constitute a republication of the story.
Debbie Dujanovic Reporting"You just wish your suffering was enough, that nobody else had to go through this."
Something is killing Utah Police. This is an important investigation about high rates of deaths, cancers, mysterious diseases among a certain group of officers. So what's the common link?
For years officers have suffered in silence. Now you will hear their stories, see video we've uncovered, how they were sent in to fight crime. Did it set them up for disease and death?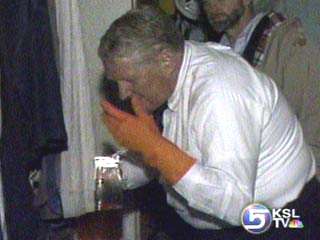 Tanya Pusey: "It's so ironic that they may be the ones who pay the price."
Charles Illsley: "Some days I have problems making it out of the house."
Kelly Call: "It's a travesty."
Officer Kelly Nye Sterner spent 13 years with Salt Lake Police. She died this year at age 49 from a rare cell disease.
Gary Sterner, Kelly Nye Sterner's Husband: "She had to have her gall bladder removed, her spleen removed, her liver was three and a half times its normal size."
Retired Lt. Dick Johnson died this year age 63. He never knew what caused the lung disease he fought for two years
Jill Johnson, Dick Johnson's Wife: "I didn't know until two weeks before that it was that serious."
Former deputy Jade Pusey died this year at age 32. A rare form of cancer ravaged his body.
Tanya Pusey, Jade Pusey's wife: "To have a three-year old and be a widow is absolutely not what you plan on."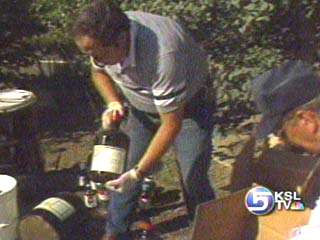 What triggered Lt. Robbie Russo's disease that cost him a kidney?
Lt. Robbie Russo: "Cancer of the kidneys.
Reporter: "Does cancer run in your family?"
Lt. Russo: "No."
Retired Officer Kelly Call is fighting a pre-cancerous condition in his throat.
Kelly Call: "I'm honestly surprised there aren't a whole bunch more agents who aren't dead."
Former Narcotics Officers, Mike Wells, Don Archuleta also struggle with illness.
Mike Wells: "I have real bad headaches four to five times a week."
Lt. Donny Archuleta: "We were there to serve the public, protect the public. That's what we were doing."
Did that sense of service cause Charles Illsley's suffering?
Charles Illsley: "The last five years, eight trips to the hospital, two heart attacks, gall bladder, kidney procedure. Six months ago my doctors said I had a one inch cyst on the lining of my heart."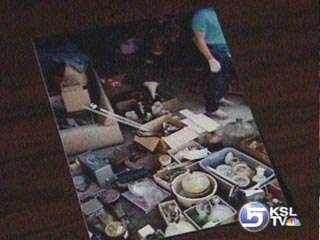 So what's the connection here? Meth. These officers --now suddenly sick and in some cases dying-- all investigated methamphetamine drug labs through the 80's and 90's. At the time they didn't know what the chemicals in those labs could do to them.
We tried to track down as many officers as we could find who were in on those early investigations. We were able to locate 42 officers. We discovered 24 of the 42 are suffering with chronic health problems or have died. Ten under the age of 50 have or have had cancer. That's 177-times the rate of cancer for that age group. And that's just cancer. They also report asthmas, lung diseases, strokes, auto-immune diseases, and other mysterious problems.
Charles Illsley: "The first generation of lab officers are guinea pigs for what drug labs do."
Over the course of his police career Illsley investigated 200 meth labs. Old photos explain a lot -- hours in labs, exposed to dangerous chemicals used to cook meth, no protective gear.
Compare the old photos to new video of how it's done today.
Reporter: "What did you have then?"
Lt. Robbie Russo: "Latex gloves."
Mike Wells: "Just our Levi's, a shirt, and our regular clothes."
A video from KSL archives of 1988 shows officers inhaling the chemicals.
Charles Illsley: "You were trained to do this, trained to do this. You put your nose close to the container and you take your hand and you waft the odor toward your face."
Donny Archuleta: "These problems are probably caused by our exposure to these chemicals."
Kelly Call: "There's no way I would've gone into a lot of those, into any of them if I would've known what was to come."
Reporter: "But you didn't have a choice?"
Kelly Call: "Heavens no."
They wish they would've known because new science is revealing how contaminated meth labs really are.
Lisa Pascadlo: "You basically have a hazardous waste dump. There is no other way to explain it."
It's new research data that's alarming officers who've been exposed and scientists, tomorrow night at ten.
×
Most recent Utah stories