Estimated read time: 1-2 minutes
This archived news story is available only for your personal, non-commercial use. Information in the story may be outdated or superseded by additional information. Reading or replaying the story in its archived form does not constitute a republication of the story.
Richard Piatt ReportingGovernor Huntsman took a look today at what lots of rain and a costly oversight did to northern Utah farmers. It's been a sunny, dry day, but plenty of people are still on pins and needles about flooding.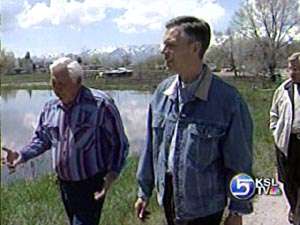 In Northern Utah Governor Huntsman made a personal appearance to inspect some of the hardest hit areas from the last two weeks. What's supposed to be a bird sanctuary is completely under water today. Governor Huntsman visited the area to see the damage up close, even though, in reality, there's not much he can do about it.
What the Governor saw west of Brigham City was a big lake. What was farmland is now several feet under water.
This is the most recent, and yet another extreme example, of how wet Utah is this year. In this case Utah Power crews opened Cutler Dam Saturday, sending millions of gallons here. Farmer Todd Yates is now tallying his losses.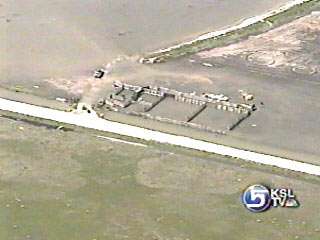 Todd Yates: "I was putting fertilizer down while they were dumping out the dam. Ten-thousand dollars of fertilizer, $20,000 worth of cattle dead…"
The Governor is getting an eye-full elsewhere too. In Nibley, Cache County, drainage problems flooded homes and farms last week. Frustration oozes for residents who watched the water rise.
DeLoy Parkinson, Property Owner: "Nobody seems to want to listen, you know. I mean, once this is over, who cares?"
Governor Huntsman admits he's worried about what's coming next.
Gov. Huntsman: "No guarantees. We have to prepare for the worst. That's why I'm here."
People in Box Elder County are certainly worried about what's coming next.
×
Most recent Utah stories