Estimated read time: 2-3 minutes
This archived news story is available only for your personal, non-commercial use. Information in the story may be outdated or superseded by additional information. Reading or replaying the story in its archived form does not constitute a republication of the story.
Sandra Yi reporting Authorities may be closer to solving the case of a missing Spanish Fork teen, one decade after she disappeared.
15-year old Kiplyn Davis was last seen in 1995 at her high school during lunch.
A man has been arrested, but he is not a suspect. The allegations are he covered up for someone who may be a suspect.
28-year old Scott Brunson appeared in federal court this morning, the 10-year anniversary of Kiplyn Davis' disappearance.
Brunson has been federally charged for lying to an FBI agent and a federal grand jury when questioned in the case.
Federal prosecutors say he covered up information that's crucial to the investigation. The indictment says he gave a false alibi for a friend of his. The Assistant US Attorney would not say who this person is, but calls him a person of interest.
Carlos Esqueda, Assistant U.S. Attorney: "We know who this unnamed person is, we have evidence against this unnamed person. That's the extent I'm going to go into it at this time."
Brunson appeared in court this morning, wearing a red jumpsuit. When the judge asked for his plea, he stood up and replied, 'Not Guilty'.
Federal prosecutors say Brunson is important to their investigation but they don't know exactly what he knows.
They tell us they are very close to getting to the bottom of this case, but they stopped short of saying a suspect could be arrested anytime soon.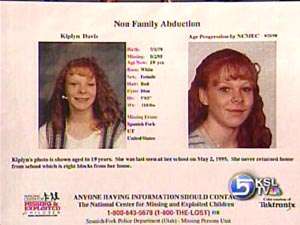 They did tell us they don't believe Kiplyn Davis is alive.
Davis disappeared ten years ago today. The then, high school sophomore disappeared after the lunch hour. She had left all her personal belongings, including her purse, in her locker.
Brunson went to high school with Kiplyn Davis.
If convicted of the seven counts of perjury and giving false statements, he faces up to 35 years in federal prison.
×
Most recent Utah stories