Estimated read time: 2-3 minutes
This archived news story is available only for your personal, non-commercial use. Information in the story may be outdated or superseded by additional information. Reading or replaying the story in its archived form does not constitute a republication of the story.
Shelley Osterloh ReportingIsolation and inactivity are said to be the enemy of older people, making those later years lonely and boring. The remedy can be as simple as getting out to a local senior center.
Norma Matheson is very well known to many Utahns -- a former first lady of our state and mother to a congressman.
Norma Matheson: "My interest in our older citizens began before I was one."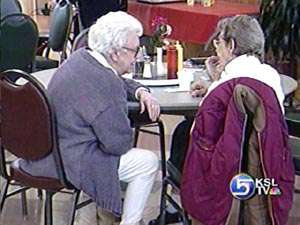 Even when her husband, Scott Matheson, was governor from 1977 to 85, Norma Matheson championed the causes of senior citizens. Now she is the new spokesperson for Salt Lake County Aging. She says Utah has always been a state with lots of children, but that's changing.
Norma Matheson: "By 2007 we are going to have more people over 60 than we do have children in elementary school."
She says the way to enjoy your older years is to stay active; if possible, share your knowledge and time by volunteering.
Norma Matheson: "I think its staying absolutely involved in your community, there's just no question. And reaching out to other people."
Mrs. Matheson says older people should take advantage of the state's many senior citizen centers, like one we found in Salt Lake City.
Norma Matheson: "There's classes, there's computer labs, art lessons, just a myriad of activities here."
Ruth Kendall: "Coming to the center saved my life."
Norma Matheson: "I hear that all the time."
Ruth Kendall: "Because I had two heart surgeries and two strokes. I'm doing ceramics and it's helped me with using my hands better."
Charles Demshaw: "I usually come here to exercise. They have an exercise room in the back and I need the exercise."
Senior centers are a place for people to stay physically active, continue learning, exercise their abilities, and have some fun.
Joyce Luttrell: "It's wonderful. I'm here five days a week and I wish it was open on Saturday and Sunday."
Mrs. Matheson wants to encourage those who can to volunteer to help seniors so they can stay as active and independent as possible.
Norma Matheson: "Just that we hope people will really become more involved with our seniors, we're a great group."
By the way, May is Older Americans Month.
×
Most recent Utah stories