Estimated read time: 2-3 minutes
This archived news story is available only for your personal, non-commercial use. Information in the story may be outdated or superseded by additional information. Reading or replaying the story in its archived form does not constitute a republication of the story.
Alex Cabrero ReportingA rock chip this isn't! How about a lightning bolt! It's what's left of a Salt Lake woman's windshield after lightning struck as she was driving down a highway.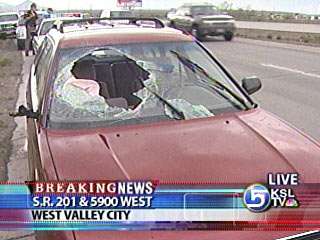 Lightning is the number one natural killer in Utah so she's lucky to be alive, and what a story she has. One minute she's driving down the highway, the next she's pulled over after lightning ripped through her car.
If the chances of getting struck by lightning are slim, then getting hit two times should be near impossible. That means Aline Devaud of Millcreek shouldn't ever have to worry about it again. As if Mother Nature hasn't done enough to Utah this year, now she's picking on people.
Aline Devaud: "Pretty amazing, but I'm lucky."
Lucky because Aline Devaud was driving her car when a big bolt of lightning came through the top.
Aline Devaud: "I thought the tire had blown out. My car was just in the shop yesterday, so I thought, 'those darn mechanics. What did they do wrong?' (laughs)." Lightning Victim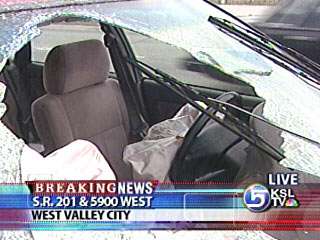 She can laugh now, but at the time it wasn't funny at all. Her windshield is half gone, her airbags popped out, and her side mirror is blown off. And the road she was on was damaged after the lightning went through her car.
Jay Watkins, Utah Highway Patrol: "I can't believe it. Absolutely, I'm still amazed by it."
Shirley Ayrton is amazed too.
Shirley Ayrton, Lightning Victim: "Definitely the loudest thing I've ever experienced.
Lightning came down the chimney of her South Jordan home and ripped apart some tiles.
Shirley Ayrton: "I was amazed. I just didn't think lightning would travel down a chimney and come into your home."
Yeah, lightning can do that, and as we saw, it can come through a moving car too. Fortunately, both victims are okay, shaken up but okay.
×
Most recent Utah stories