Estimated read time: 2-3 minutes
This archived news story is available only for your personal, non-commercial use. Information in the story may be outdated or superseded by additional information. Reading or replaying the story in its archived form does not constitute a republication of the story.
Jed Boal ReportingDams across Utah are being put the test with this spring's heavy rains and run-off. Crews made emergency repairs to one dam with critical problems in Cache County last fall, just in time for a phenomenal run-off.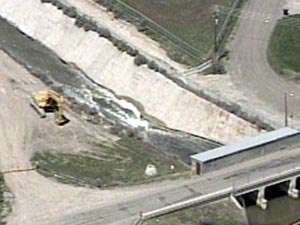 The Hyrum Dam had serious problems a year ago. High flows last week could have exposed the damage and endangered public safety and property, but the Bureau of Reclamation caught the problems in time.
Hyrum Reservoir is near capacity holding and releasing more water from the Little Bear River than in any recent year. Last fall it was a construction zone with a tight deadline.
Ed Vidmar, Bureau of Reclamation: "We saw we had an issue on the incline portion of the spillway. We had a severe issue."
In fall 2003 a Bureau of Reclamation safety evaluation found that erosion over decades weakened support in the spillway. The spillway needed immediate repair; high spring run-off could have made the spillway fail.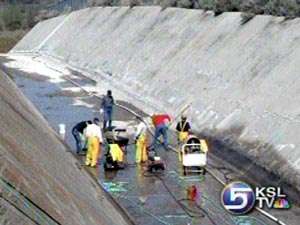 Ed Vidmar, Bureau of Reclamation: "The foundation had eroded out from under the floor. One could only speculate as to what the problems could have been."
So crews went to work. In August they demolished and removed the old spillway floor. They installed 18-inch thick concrete walls up the 200-foot slope and finished Thanksgiving Day.
Ed Vidmar, Bureau of Reclamation: "It's functioned very well. Through these high releases last week, it's still doing very well."
The storms a week ago were quite a test. The Hyrum Dam is playing a key role on the Little Bear River right now, helping to manage floodwaters from snowmelt and rain.
Ed Vidmar: "We just had to manage a situation that Mother Nature threw on us, and there on others as well."
Mother Nature is throwing even more at the Cache Valley. The Bureau of Reclamation says it handles ongoing repairs and upgrades at dams in the state; the problems at Hyrum Dam were the most serious.
×
Most recent Utah stories