Estimated read time: 2-3 minutes
This archived news story is available only for your personal, non-commercial use. Information in the story may be outdated or superseded by additional information. Reading or replaying the story in its archived form does not constitute a republication of the story.
EAST CANYON STATE PARK -- It's been a long time since Deanna Fair and her family went camping together.
They decided since this weekend is Labor Day weekend, it was their last chance to get together before the summer ends.
"Absolutely. Everybody has the time off, finally, together and we're going to have a great time," said Fair, a Salt Lake City resident who found a camping site at East Canyon State Park in Morgan County.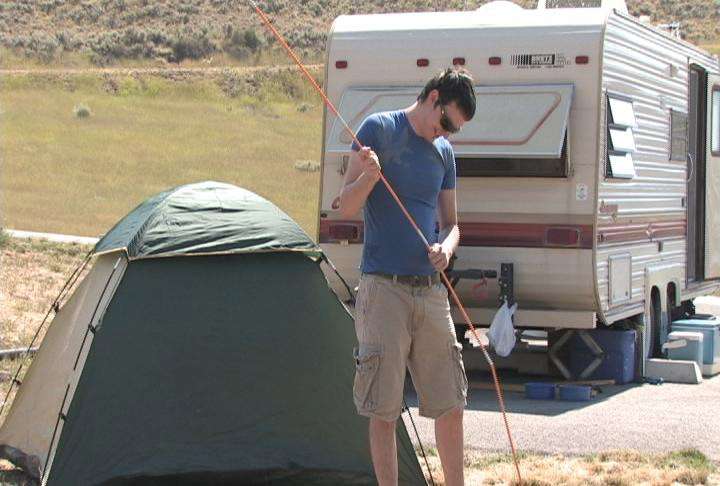 She's doesn't know how lucky she is. Every single campsite at East Canyon has been reserved. A sign as you enter the park says the campground is full.

"We're booked out, and this entire summer, we've been pretty much booked out two to three weeks in advance," said John Sullivan, the park manager for East Canyon.

Sullivan says he's noticing more campers this year than ever.

Visitation at East Canyon is up 20 percent as compared to last summer. Many of them are Utah residents.

"It's amazing how many people actually come out and say this is their first time here," said Sullivan.

Leigh von der Esch, who runs the Utah Office of Tourism, says it's a trend she's been seeing all summer long.

"Utahns are re-discovering what the state has to offer," said von der Esch.

![](http://media.bonnint.net/slc/1152/115299/11529935.jpg) **Visitation to Utah parks** State parks - up 4% National parks - up 10% East Cyn State Park - up 20%

She thinks because of the down economy, people are staying closer to home and taking more "staycations." "We've always said it's not necessary to go out of state to have a great family vacation, and certainly this summer with the economy being tough, people are staying closer to home," said von der Esch. "Families want to be together, and they still want to create a family memory. We have state parks that are more beautiful than some state's national parks, so we're very proud of them."

Visits to Utah's five national parks are up 10 percent this summer as compared to last year.

Utah's state parks are seeing a 4 percent increase.

For the Fair family, this weekend's trip isn't the same as their usual Idaho summer vacation, but they say it's going to be just as good.

"It's a nice lake to come to, and it's really close to Salt Lake City," said Fair.

E-mail: acabrero@ksl.com

×
Related links
Most recent Utah stories